Advisor says farewell to seniors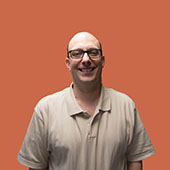 The job of adviser is part teacher, part guidance counselor, part psychologist, part psychiatrist, part parent, part friend and part drill sergeant. The hard part is knowing which part you need to be at any given point in time.
This collection of eight graduating members of the Advance-Titan staff represents as eclectic, diverse and fun group as any other I've taught to this point.
Four or five (or in one case, six) years ago, they started their journey at UW Oshkosh with no sense of what they wanted to be or an absolute certainty of where they wanted to go. During the intervening years, their journeys swung wildly or held fast, with the only certainty being the change that comes with growth and development.
Somehow, some way, they each found the basement room in Reeve Union that we call the A-T office and they learned to call it home.
As a joke, I like to say that the A-T is like a family, in that we all drink and yell at each other a lot. However, I honestly do believe that the people who cross the threshold into 19 Reeve eventually come to realize we are actually a family in the best of all ways as well. We pull for you when you're doing well, we pick you up when you are doing poorly and we make sure to always be there when you need us.
These folks are just the latest in a long line of graduates who can place the A-T on their resumes and etch the memories they have here upon all of our hearts.
Every chance I get, I make sure to meet with their families at graduation to tell anyone who will listen that it was an honor and a privilege to be a part of the lives of these extraordinary individuals.
I end up in photos with them, smiling from ear to ear, only to think later, "What are you smiling at, you idiot? You just lost half your damned staff again…"
I smile because I know it's time for them to go and leave the nest, spreading their wings and plying their trade. They take with them their memories and experiences and leave behind legendary stories that the next generation of staffers will have to live up to.
I also smile because I know the truth about a family like this: We will always be here for you when you need us.
Come back and visit. You're always welcome here.