Dakota Zanin, Sports Writer

October 3, 2019
The UW Oshkosh women's volleyball team defeated conference rival UW-Platteville Sept. 25 three sets to none as last week's WIAC defensive player of the week, senior Rachel Gardner, recorded 21 digs. In the sweep, freshman Rachel Aasby and sophomore Kendall Enyart tied for the team lead with eight...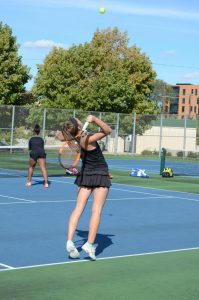 Cory Sparks, Sports Writer

October 3, 2019
The UW Oshkosh Women's tennis team swept the competition this week, beating UW-Stevens Point (8-1), St. Norbert College (7-2) and UW-River Falls (9-0), improving its overall record to 5-2. The team was putting up points throughout the duration of last week's sweep. Head coach Robert Henshaw...