Correctional facilities in Wisconsin struggle to contain COVID-19
December 2, 2020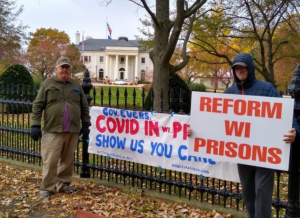 Last month, the Oshkosh Correctional Institution (OSCI) passed a grim milestone, becoming the Wisconsin prison with the most COVID-19 cases since March, as criminal justice reform advocates plead with the state to change procedures.
The prison had 957 total confirmed cases of coronavirus with 16 active cases as of Tuesday, according to the Wisconsin Department of Corrections (DOC). On Nov. 20, however, the DOC dashboard showed OSCI having 248 active COVID-19 cases.
But the recent outbreak at OSCI was not the prison's first, according to the Wisconsin State Journal.
In fact, the prison had an outbreak of 341 active cases on Oct. 5, dipped below 100 cases and then rose to 288 active cases by Oct. 19. By the end of October, OSCI only had 39 active COVID-19 cases, according to the State Journal.
Beyond OSCI, six other prisons reported more than 100 active coronavirus cases on Nov. 20, including Columbia Correctional, Dodge Correctional, Fox Lake Correctional, Racine Correctional, Robert Ellsworth Correctional and Taycheedah Correctional.
In a Nov. 25 Facebook post, the Winnebago County Sheriff's Office said it found four COVID-19 cases among inmates on Nov. 13 and follow-up testing that day had revealed 27 additional cases.
Since March, the sheriff's office says it has been isolating all new arrivals by requiring them to quarantine for two weeks, while also enforcing masks for inmates and staff, restricting access to the facility and stockpiling supplies.
"Similar to the community at large, most affected inmates are either asymptomatic or experiencing mild COVID-19 symptoms," the sheriff's office said. "All positive inmates remain housed within the Winnebago County Jail, and we are monitoring their welfare. Subsequent testing has already been coordinated."
However, if correctional facilities do not work to reduce populations to increase space for social distancing, advocates fear that for many inmates, their time in prison could turn into a life sentence due to the pandemic.
"Frankly, we may see very high mortality rates in prisons," said William Van Lopik, a community organizer for Esther-Fox Valley, a faith-based advocacy group that supports criminal justice reform. "Out in society, you're encouraged to call your doctor or go and get tested, but in prison that doesn't happen; you may have to be in a really bad situation to be hospitalized."
Van Lopik attributed the outbreaks in Wisconsin prisons to over-capacity, meaning there is no room to practice social distancing. Because prisons have limited in-person visitations, he says the outbreaks must be originating with the guards.
In fact, the DOC COVID-19 dashboard states that as of Tuesday a total of 111 employees at OSCI have tested positive since the pandemic began.
His organization advocates for the "compassionate release" of inmates, which would allow prisoners nearing the end of their sentence or those with underlying health conditions to be released early to increase the ability to social distance.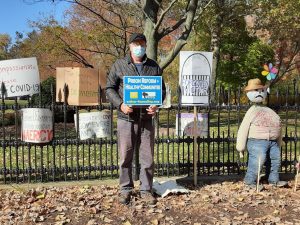 OSCI's design capacity is about 1,494 inmates, but the prison's population was roughly 1,970 in June, according to OSCI's 2020 annual report. Of those inmates, 22% have less than a year left of their sentence and 18% have only one year left, per an OSCI fact sheet.
"We're not talking about releasing everyone, but the terminally ill, those who are almost at the end of their sentence and people in on technical violations," Van Lopik said. "It would be a tragedy if someone dies, who's months away from being released."
Esther organizers spent the last five weeks holding sit-ins at the governor's mansion in Madison, advocating Gov. Tony Evers to take action to address Wisconsin prisons' COVID-19 situation.
"We've been sitting out there for the last five weeks and he knows we're there, but we haven't heard a word," Van Lopik said. "We're going to keep sitting there until there's some sort of acknowledgement that there's a problem in our prison system with COVID."
Even after the pandemic, Van Lopik says the overcrowding problem in Wisconsin's prisons will not go away until the system of mass incarceration is reformed.
Many people filling Wisconsin's prisons and jails "are not hardened criminals" — they are doing time for non-violent offenses, Van Lopik said.
"We have to come up with more creative ways of dealing with those issues than putting people in jail, because it fractures the family structure," he said. "It especially harms people with a lack of resources."
Winnebago County has a drug court program and is establishing a mental health diversion program, but Van Lopik believes more action is needed to ensure justice is doled out fairly.
"There's a huge racial discrepancy in Wisconsin prisons too," he said. "We are one of the worst in the country as far as the racial discrepancy of our prison population as compared to our general population."
At the end of the day, Van Lopik says Esther will continue assembling outside of the governor's mansion until it sees some kind of change.