Juuling epidemic is lit on campus
FDA looks extensively at Juul Labs after report of young people smoking indicates a 78 percent rise
Juuling is the latest smoking trend to harm a generation, and it's just an extension of the electronic cigarette takeover that the Food and Drug Administration has called an epidemic.
Students can be seen juuling on campus on their way to class, in their dorm rooms or eating at the café. A Juul can be spotted by its four inch by half inch by quarter inch frame and relatively small plumes of smoke produced.
The number of young people smoking electronic cigarettes rose 78 percent in the past year, according to the Center for Disease Control and Prevention's National Youth Tobacco survey.
Even more, research from the same data survey showed smoking electronic cigarettes among middle school students was up 48 percent.
UW Oshkosh senior Sam Schwenn described the Juul buzz as a rush of dopamine that makes him feel happy.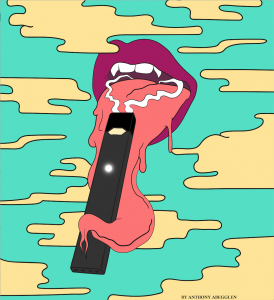 UWO senior Kevin Borisy called the Juul weird and said he doesn't understand why so many people are doing it.
UWO freshman Mason Kobilic said he doesn't Juul because he knows about the negative side effects of juuling and said he doesn't want to become a product of the addiction.
The rise in youth smoking was the primary reason for FDA Commissioner Scott Gottlieb to announce in a Sept. 12, 2018, press release the largest single enforcement action in agency history.
Gottlieb said the enforcement action focused on the sale of nicotine products to underage people and said he recognized the paradox between helping smokers quit and enabling teens. Civil and criminal resources were cited in the press release as possible remedies.
Juul Labs, the company Gottlieb said the FDA was focused on, was founded by two people who wanted to quit their own combustible smoking habits and help other adults who were not satisfied with their current alternative smoking options.
When Juul Labs came to the market with nicotine cartridges called pods, which contained either five percent nicotine strength or three percent nicotine strength, they were the strongest nicotine by volume product offered on the electronic cigarette market.
The pod strength is reportedly the reason why so many combustible smokers were switching to electronic smoking cigarettes, but that's also why so many young people were getting hooked.
Juul manufacturers said their pods contain the same amount of nicotine one package of cigarettes does. If a person were to buy a pack of pods, their only choice would be to buy a pack of four.
Schwenn said smoking the Juul helps him relax and relieves his stress.
"It's like a rush of dopamine to your head and you feel good, relaxed, happy," Schwenn said. "It's something that, when I have nothing better to do, I'll smoke the Juul."
Schwenn said he likes to smoke when he studies and when he's out on the weekend.
"I'm not addicted to it, it's more that, I have the freedom to do it and I want to do it; not that I'm addicted to it and need to do it, but I want to do it to feel good," Schwenn said.
Borisy said he doesn't smoke but his friends do. He said his friends smoke the Juul constantly, and when he is in a conversation with them, they will often pull out their Juul and start smoking as they are in the middle of their conversation.
Borisy said the smoking picks up when he and his friends go to Main Street on the weekend.
"If we go to a bar on Main Street, it's like every 30 minutes they pull it out and hit it; it's weird," Borisy said.
Borisy said if there were a classroom of 20 people at UWO, he would guess at least seven of them would have a Juul on them.
"Vaping, to me, just seems pricey, and I never caught on with the trend," Borisy said. "I'm not the guy that spends 10 dollars on a pack of cigarettes either, so if you want to spend your money on that, that's fine, but I won't."
UWO student and tobacco-free campus advocate Aaron Wojciechowski said the Juul should be included in the tobacco-free campus policy. Wojciechowski said the Juul, like a cigarette, is a problem for other people.
"Whether you're smoking or vaping, nicotine and other toxins in the products are harmful not only to yourself, but to those around you," Wojciechowski said.
Wojciechowski said it is important for students to be mindful of others on campus if they decide to smoke, whether it be cigarettes or electronic cigarettes.
"Be courteous of those around you when smoking or vaping; it may seem harmless, but we should be respectful of others," Wojciechowski said.