Pop Night brings funk to Titan Underground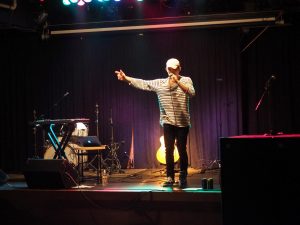 Musical acts Cold Soda Club and Zachary Mayer took the stage at Titan Underground on Thursday night performing for Reeve Union Board's Local Live Pop Music Night.
Cold Soda Club opened the night with soulful vocals and guitar licks from many popular songs of multiple genres.
"If I had to put their music into words, I'd describe their sound as smooth and sweet," freshman Spencer Muffler said.
Cold Soda Club played a sprawling array of covers jumping from genre to genre and era to era. Covers included Beatles classic "Come Together," Sublime's "Santeria," and an original mashup of the Beatles' "Twist and Shout" mixed with Whitney Houston's "I Will Always Love You."
The group debuted a new song with a funk/rock/pop kind of feel, emulating alternative contemporaries, like Alabama Shakes. The song came to an end with a falsetto crooning "Lay Me Down" by Sublime accompanied by a bass guitar solo.
The crowd reacted positively to the band's cover of R. Kelly's slow jam "Ignition Remix," which Cold Soda Club found a way to add an interesting spin to, using a wah pedal to keep the guitar sound lingering.
"I've never heard a rock band cover 'Ignition' before, so it was cool hearing it with a funky rock kind of sound," junior Bryan Jean said.
Cold Soda Club closed with it's original "DnD" where lead singer Tyler Maxon screeched like Michael Jackson and growled like James Brown.
"My favorite part of the song was when the lead singer handed the mic to the bassist and he made the weird noise with his lips after the chorus," Muffler said.
After Cold Soda Club's set, producer and solo artist Zachary Mayer took the stage with his guitar, synthesizer keyboard and computer filled with beats.
Mayer's set consisted almost entirely of original material with a couple covers mixed in.
"Zach had a really unique vibe that was super chill with a hint of indie and hip-hop," freshman Sydney Ekstrom said. "His music reminded me a lot of the alternative group LANY."
Mayer delivered an original chorus, singing, "It don't matter where you are. I will try with all my night to fight for you," while grooving to the instrumental breaks.
Mayer delivered with over the top of music infused with hard-hitting beats layered on top of synths.
Mayer gazed up and pulled away from the microphone while burying his face in his hands and then shouted, "Can you hold me tight for the night, and reassure me it'll be all right?" while he performed his brand new song "3 a.m."
In the middle of the set, Mayer covered a song from the band LANY. The original, an upbeat electronic song called "ILYSB" which Mayer then took and stripped down to the bare bones of his synth and crying voice at a slower tempo.
Mayer got the crowd up and off their seats dancing along with him and singing along to the choruses of his more upbeat originals.
"I really enjoyed both of the performances," Jean said. "I would definitely like to see both acts again sometime soon."