Bateman team fights childhood cancer
PR students campaign for national competition
Students on the UW Oshkosh Bateman team have launched their campaign, "Ignite Action With Purpose" and are looking to raise awareness of childhood cancer and research.
The Bateman Case Study is an annual competition hosted by Public Relations Student Society of America, which challenges public relations students to implement a full campaign on a chosen company.
This year, the chosen company is With Purpose, a childhood cancer research fundraiser that looks to advance childhood cancer treatment by pushing youth to lead the movement.
Over the past two years, the Bateman teams have helped clients who specialize in assisting student veterans and mental health research.
The team was recently featured on Fox 11 News in an attempt to complete their goal, to raise awareness by 15 percent and increase Oshkosh membership in With Purpose by five percent.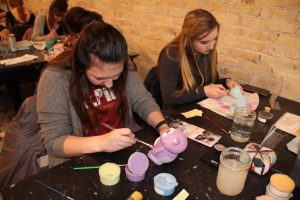 Senior Monica Salmeri said although their main goal is to raise awareness, they have also raised money for the cause.
"Our goal is really just to bring awareness to With Purpose as opposed to raising money because that is their goal along with awareness," Salmeri said. "But we have raised over $700 in addition, which has been really cool since that's not an actual goal of ours."
Salmeri said they hope to make an impact on the community by informing them on what has or hasn't been done for childhood cancer.
"There hasn't been much headway made in about the last 40 years for childhood cancer research," Salmeri said. "That's something we're trying to make an impact with."
Salmeri also said there has been a lot of shock in response to statistics they shared during the With Purpose campaign, which has encouraged people to make an impact.
"Only four new cancer treatments have been FDA approved since the 1970s, and one in five children who are diagnosed with cancer won't survive," Salmeri said. "Statistics like that have really stuck with people and encouraged people to make an impact and share the message."
Bateman team member Jessica Foster said many people have been moved emotionally by their message.
"People 'aw' and believe this is a great thing we're doing, which is also a great reaction," Foster said. "It may be too early to say how people will get out and do something about childhood cancer research, but people are definitely paying attention to us. That's step one."
Foster said the team has worked hard on the campaign using all their different skills to make everything run smoothly.
"Our team meshes so well with each of our individual strengths, and I think that is what's making this campaign work," Foster said. "I've appreciated strengthening my skills and learning from my team in order to create this campaign from start to finish."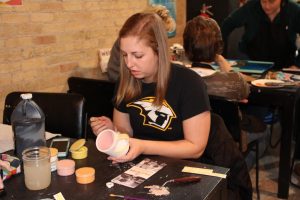 Foster said they decided on their events by focusing on who their intended audience was and how they would reach them.
"With Purpose is a youth-led movement, so we tried to reach as young of an audience as possible," Foster said. "We figured painting would reach a younger audience, and after contacting Fire Escape, they were completely on board with us."
Over the weekend the team hosted their two events: Paint with Purpose and a social at Mahoney's Bar and Grill.
Bateman team member Emily Reise said a family with a child with cancer attended the Paint With Purpose event and donated their paintings, which helped put into perspective why the team is doing what they are doing.
"After chatting with them, I knew that this is why we are here," Reise said. "We are making a difference and raising awareness."
The social at Mahoney's Bar and Grill had paintings donated by Fire Escape auctioned off. The founder of With Purpose, Erin Benson, also gave a speech at the social.
Reise said the response to Benson's speech was powerful and evoked emotions from everyone attending the social.
"It is one thing for us to talk about the issue, but it was way more powerful to hear from her," Reise said. "There were tears in the room from hearing her speak."
Reise said all the long hours and difficult moments in planning the campaign will be worth it because they are raising awareness about an important issue.
"This campaign came to life after a lot of late nights and cups of coffee," Reise said. "When the campaign got tough our team would pull through together. All the challenges have been worth the reward of advancing awareness in the Oshkosh community about lack of childhood treatment options."