Student bands selected for Bye Gosh Fest openers
Following a battle-of-the-bands-style contest to decide the opener of Bye Gosh fest, Eminence and EvryOne + The Melodic Prodigies were chosen as the openers for T-Pain on May 3.
Eminence is an all-female rock band from the Fox Valley area, made up by bass guitarist Alex Stricker, guitarist Molly McCarthey, lead singer Mik Josefchek and drummer Caitlin Sweeney.
Eminence has been together for six years, with Josefchek joining them about a year ago as well as various line-up substitutions every now and then.
At Battle of the Openers they experienced competition against genres other than rock for the first time, but Josefchek said they tried to use that to their benefit.
"It put us into a competitive advantage, being different from everybody else," Josefchek said. "Being not pop or hip-hop, we were also the only girls in the competition."
McCarthey said they stick out from other bands because they are all female and people tend to not expect them to play rock music.
"A lot of people don't expect the talent and the passion that comes with our music," McCarthey said. "We've gotten a lot of shock from people just seeing us on stage and not taking us seriously, and then we play and people are like, 'Oh, they're professionals.'"
Stricker said they have also had people who are walking past stop to listen to them play their music.
"We've played at the state fair, and we've actually had people stop and turn around just to listen to us," Stricker said.
Sweeney said the best part about being in a band and performing is meeting all the different people.
"I think for me personally it's like exploring the music and meeting other musicians who are also doing the same thing we're doing and being able to converse with them about it," Sweeney said.
When they received the news, the girls said they all were excited and happy to find they would be opening at Bye Gosh Fest.
"I actually screamed and ran to my parents because, I mean, T-Pain was on my MP3 player and I would be dancing along in late middle school, early high school," Sweeney said. "It's really cool to be opening for someone like him."
The other opener, EvryOne + The Melodic Prodigies, combines the work of hip-hop artist EvryOne, John Schaeffer on vocals, with Melodic Prodigies members Jaylon Higgins on drums, Maleek Patterson on guitar and Azaliah Fifer on keyboard.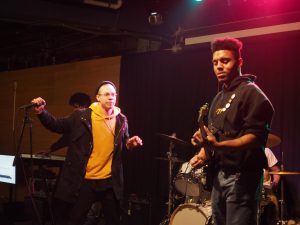 They have been performing together since last year, and Schaeffer said they have found good success in their partnership.
"There's just a connection I have with these guys," Schaeffer said. "Obviously it's taken us somewhere."
Schaeffer has been doing music for three years while working a full and part-time job outside of writing and performing.
Schaeffer said he decided to go into music because of his dad, who was a hip-hop DJ, and made it a big part of his life since he was born.
"He was the original DJ for Arrested Development, which was a huge hip-hop group in the early 90s," Schaeffer said. "Hip-hop has always been in my life and just seeing him do his job."
Schaeffer said when he moved from Milwaukee to Oshkosh he wanted to help bring the culture of hip hop to the city, and that's when things really started moving with his music.
"I felt I had to bring that culture and the idea that this genre of music can be accepted as well up here," Schaeffer said. "It wasn't really a scene buzzing up here."
Sweeney has performed in places all over Wisconsin such as Oshkosh, Milwaukee and Eau Claire as well as Seattle, Washington. He has also played at Wisco! The Music Fest at UWO.
Schaeffer said they when they performed at the Battle of the Openers, they decided to cut two songs in half, as well as showcase band member's talents.
"I felt that would be a unique way to utilize the five minutes that we had," Schaeffer said.
Schaeffer said that his passion is what he thinks sets him apart from other musicians.
"I've been told that with my performances you're able to feel them, feel the heart," Schaeffer said. "Passion and heart really sets me apart from other people."
When he found out that they would be performing at Bye Gosh Fest, Schaeffer said he messaged the other boys and found they were ecstatic about the news.
"As soon as I got the email I messaged all of them that we got it," Schaeffer said. "I was just getting a whole bunch of emojis. We're excited to bring our talents and showcase what we do."