UWO PRSSA hosts Cycle of Life Event
The organ donation awareness event consisted of cycling sessions and keynote speaker Bill Conner
Each year, the Public Relations Student Society of America sponsors the National Organ Donation Awareness competition, this year deciding to organize Cycle of Life.
The event featured cyclist Bill Conner as the special guest speaker and two 26-minute cycling sessions on April 17.
Conner's daughter Abbey died in January of 2017. That summer, he biked 2,600 miles from Madison, Wisconsin to Fort Lauderdale, Florida to honor her and meet the man who received her heart.
He has advocated for organ donation in several places including Wisconsin, New York and Virginia.
UWO PRSSA president Monica Salmeri said they saw Conner's session in Boston for the Louisiana Organ Procurement Agency, heard he was from Wisconsin and contacted him immediately.
"He was like, 'Oh, totally I'm willing,'" Salmeri said. "And that was in October. So, it's been in our minds for a long time."
Salmeri said they chose the theme of cycling because the story was strongest on the fact that Conner biked a long distance.
"A lot of his impact came from the 2,600 miles that he biked so we wanted to keep that up," Salmeri said. "We did have two cycling events earlier that were 26 minutes long just to symbolize that and create a little bit of buzz around the event."
Salmeri said she hopes they help people realize the importance of organ donation and how it can help.
"I hope that we can continue to make a difference," Salmeri said. "You honestly don't know what's going to happen in your life or if you're going to need an organ or if a family member of yours does."
Vice President of Events Brianna Colebourne said the team worked hard to bring together all the components of the day after they decided on the slogan name.
"Bringing it all together was just the help of me and the PRSSA chapter putting in long hours during our meetings," Colebourne said. "Setting up venues and stuff like that."
Colebourne said it was hectic bringing everything together between differing schedules, but it all worked out in the end.
"It's hard to find time to make those posters and secure these venues," Colebourne said. "It's crazy but in the end, it's worth it."
Colebourne said this campaign is important because everyone deserves to have the opportunity to enjoy their life.
"You don't need your organs when you're in the ground or cremated and someone could use those organs and have a great life," Colebourne said. "I think that's something special that everyone should be able to do."
Conner was the keynote speaker of the event and spoke to the audience about his cycling journey and why organ donation is important.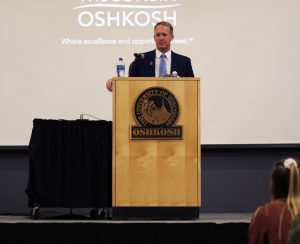 "I think organ donation should be mandatory," Conner said. "There's people dying every day."
Conner said Abbey ended up helping eight people because of her choice to donate her organs.
"I truly feel Abbey is living," Conner said. "It's her heart. That thing is pumping and it's her. It's just helping somebody else live."
Conner traveled about 65 to 80 miles a day for six, sometimes seven days a week and met several people who have experienced the loss of a child as well.
"Tragedy," Conner said. "How does it bring people together from seven or eight states?"
He said if there is someone who has lost a child, that people should talk with them to help them and be there for them during an unimaginable tragedy.
"If you know anybody who has lost a child," Conner said. "Go out of your way and go to their door."
Conner said through meeting people everywhere he stopped, he had support and help no matter where he was or what happened.
"Everything that happened, somebody was there to pick me up," Conner said.
Although the journey was long, he said it didn't seem difficult because he was doing it for Abbey.
"2,600 miles wasn't hard because I had a cause," Conner said.
Although he talked about different components of the journey and the importance of organ donation, one thing he kept telling the crowd was that the current college generation can make a difference.
"You have no idea how much you can do," Conner said. "People like you have to make a change."