Men in Nursing fundraises for national conference
Volunteers for the UW Oshkosh chapter of the American Association for Men in Nursing traded two hours of hard work for 10 percent of all sales between 5 – 7 p.m. at Culver's on Koeller Street, Tuesday.
Men in Nursing club board member at large Kayla O'Connell said the goal was to raise money for their annual trip to the AAMN national conference and spread awareness to the organization.
O'Connell said the conference is a great experience for any student in the nursing program and that the club tries to send as many people as they can each year with the fundraising money they make.
The AAMN national conference was last held in Milwaukee where participants engaged in a panel discussion about the latest innovations in the nursing field amongst other topics, discussions and networking events.
Oshkosh Culver's general manager Laurie Berry said the Men in Nursing volunteers made use of the 10 percent fundraising night opportunity.
"We do them Mondays, Tuesdays and Wednesdays, and it depends on what other events are happening, but we'll plan accordingly," Berry said.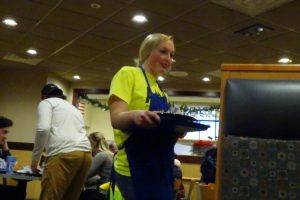 Berry said Culver's is a huge part of the community, and they have been offering the fundraising opportunities for the entire 18 years she has been with Culver's.
"It brings community and gets our name out there, but mostly it's to bring the community together and share what we have," Berry said.
O'Connell said besides the conference, they were raising money to help mobilize the club in community affairs.
"We do activities on the side, like bonding activities, that we hope to do more of in the future, but we also do activities like tie blanket events," O'Connell said.
O'Connell said last year they donated a number of tie-blankets to a local children's hospital.
"Just getting the funding to do something like that and seeing how big of an impact that actually makes on the community and members of Men in Nursing is worth it," O'Connell said.
O'Connell said Men in Nursing is dedicated to gender equality.
"We support the diversity in nursing, especially males in nursing, but we are also an advocate for men's health," O'Connell said. "Diversity is our main focus because there is such a small percentage of men in nursing, and it's good to bridge that gender gap."
Men in Nursing board member at large Jacqueline Lahaie said AAMN will volunteer to do any event.
"We do Hands on Oshkosh, we volunteer with the domestic abuse services at the Christine Ann Center, we offer assistance at the Fox Valley Marathon," Lahaie said. "Mostly we're just looking to get involved."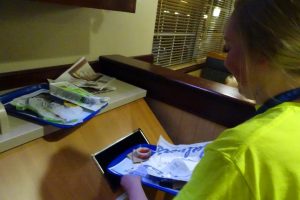 Lahaie said the club is active on campus, too.
"We bake and decorate cookies to hand out on campus; we do other things like fresh fruit Friday to promote health and wellness on campus," Lahaie said.
O'Connell said that although the organization name has the word "men" in it, nearly 75 percent of the members in the UWO AAMN chapter are women.
"It's really important to have females in this organization because they can make a big difference in promoting men to join nursing," O'Connell said.
O'Connell said AAMN is different from the other nursing club on campus in a number of ways, but that both look to better the nursing field.
O'Connell said AAMN offers a free mentoring program to their members, which allows younger students to pair with older students and discuss the complexities of student life.
In 2016, UWO's AAMN club won National Chapter of the Year designation and the AAMN's Best School/College in Nursing.
AAMN is a national organization with the UWO club representing the Great Lakes branch.