Comedian thrills in first show of spring semester
Comedian Eric O'Shea visited the Reeve Union Ballroom Feb. 6 for the first Reeve Union Board sponsored event of the spring semester.
O'Shea is widely known for his "commercials" routine, which, according to his web-site, brought in nearly 4 million views on YouTube and praise from legendary film producer Steven Spielberg.
O'Shea is a Marquette University graduate who majored in sports broadcasting. Shortly thereafter, O'Shea ditched the broadcasting booth for 25 years of touring college campuses as a comedian.
Over 5,000 college campuses nationwide voted for O'Shea in 2007 for "The National College Comedian of the Year" award, which he has been nominated for six times since, according to his web-site.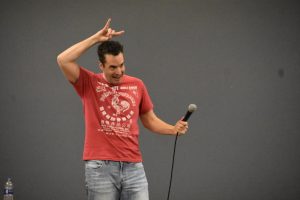 RUB program adviser Dylan Bram spoke as the voice of the event for event.
Bram was also the person who recruited O'Shea to come to UWO after seeing him and being impressed by his performance at the National Association for Campus Activities convention.
Bram said he and his 10 colleagues were delighted by O'Shea's routine at the convention and thought he would be a great fit for the UWO students.
"We all thought he was very clean, really friendly, really clever, creative and just fresh — original," Bram said.
O'Shea took the stage in a red Sriracha hot sauce T-shirt, faded blue jeans, no belt and a pair of bright blue Puma shoes. He immediately made cracks at the "balmy" Wisconsin weather.
UWO freshman Hailey Holm referred to the comedians she used to watch in highschool and the differences between them and O'Shea.
"In high school, when we had comedians come in, they were usually really mellow, but this was more of our humor, more adult humor," Holm said. "He was really funny."
UWO freshman Lizzie Gowin said her favorite part of the routine was the end when O'Shea paired famous pop song lyrics with ironic television commercials like Viagra.
"I also really liked when he did the arm thing," Gowin said, referring to O'Shea's loose skin flapping in the air as he'd lift his arms up and down, which O'Shea said is a recent development and byproduct of old age.
O'Shea said he has enjoyed his journey on the road, touring college campuses, and that he averages 70 schools a year. He said he enjoys doing shows at college campuses more than at comedy clubs.
"I like talking to students about what makes them happy and I enjoy taking the bullet for them up here as the dorky guy," O'Shea said.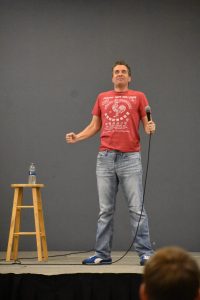 O'Shea said his routine is observational.
"I always consider myself as more of a performer than I am a comedian," O'Shea said. "There are a lot of guys who are really great with words; I think I'm more of an entertainer."
O'Shea said the UWO students made him think more than usual.
"It's fun to be the youngest guy in the room for once, mentally," O'Shea said. "The students were on an intellectual level, and it's fun to be silly and let them laugh. When they laugh, they let go of what they are worried about, it was fun to see them let go."