Behind the curtain with production crew
Plays and musicals performed at UW Oshkosh are directed under the guidance of faculty members; but once the show goes live, responsibilities are taken over by students.
Stage Manager
In "Moon Over Buffalo," the house lights dimming, the curtains rising, the telephone ringing and the props brought to place are effects of the stage manager cuing direction.
UWO senior Matthew Beecher will take on the role of stage manager for the first time in the upcoming show "Moon Over Buffalo."
"I'm thankful that I'm being trusted to be involved in this way, in this production," Beecher said. "It's a large responsibility, and I'm glad that everyone feels they can trusts me."
In addition to giving direction and ordering cues, the stage manager acts as an assistant director.
And in order to maintain all of those responsibilities, Beecher said he uses what is called a prompt script.
"It has everything in it from contact information to the script itself — to a list of things I need to do and go through before the show starts, and another list for once the show ends — and all of these plots, lights and scenery," Beecher said.
The responsibilities of the stage manager and the director are bounced back and forth, but when it comes time to perform live, Beecher said it is his show to run.
"I say 'lights up,' and it happens."
Fly Person
One of the most dangerous jobs in theater involves a system of ropes, pulleys and battens that brings curtains down, fixes light and locks linesets not moving.
If the counterbalance of the pulley system were to be thrown off, heavy curtains would fall, thick ropes would swing through the air and people could get hurt.
It takes a trained person to operate the fly system, and for UWO it's freshman Lucas Hansen.
Hansen said he has been involved in theater since he was in seventh grade and has always had a passion for it.
"When I started theater in middle school, it was something I heard of and something that sounded really cool and fun to do," Hansen said.
Hansen communicates with Beecher through a set of cues echoed into his headset and can also be seen moving props between sets dressed in black.
Props Manager
A person who is in charge of managing props is responsible for many things, but must make sure he or she does research about the era of the show so that the props reflect that era.
Props can be as small as a bottle of wine, but they are often handmade, painted and customized weeks before the show.
Gathering props starts with a list of what is needed and a plan for how the props will be assembled, rented or purchased.
UWO Junior Daria Chirhart manages props at UWO, and said she enjoys building props and working with the director.
Chirhart said she has been involved in theater since she was a child and said her favorite set of props she's ever made was a collection of toy soldiers.
"I got to make 10 wooden toy soldiers all by hand, and I painted them all, and it was a lot of fun," Chirhart said.
Sound Designer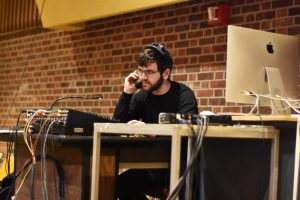 When a sound designer does their job well, they should go unnoticed, UWO senior Nathaniel Wolkoff said.
"Good audio in a production does its job and gets out of the way," Wolkoff said. "Your job is to sneak in unnoticed."
Wolkoff said he most enjoys building a world for the actors to live in and creating something for other people to be a part of.
A sound designer must read the script thoroughly to know what sounds need to be produced, when and in what era.
"Once you have those basics, that's when you can get creative," Wolkoff said. "It doesn't say, for example, 'there is a certain sound here,' but I can add it in for effect."
Wolkoff gave an example of that freedom of sound and going off-script to street noise.
"I can put that noise in to convince everybody in attendance that [the actors] are outside and [the audience] can forget about it and be in that space," Wolkoff said.
Wolkoff said working in sound design requires him to work closely with everybody else to make one coherent production.
"That's what theater is, one collaborative process to put something together that makes it look like it was done by one person," Wolkoff said.
Light Designer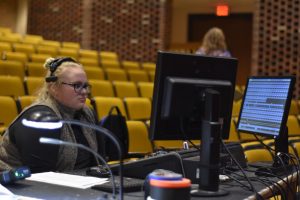 UWO faculty member James Alderson directs and designs lights for the theater, and UWO junior Hannah Olsen is in charge of cues.
Olsen said the production and concept of the lights, what colors and when, are conceptualized by Alderson in early rehearsals.
"Once we have all the cues recorded and the show begins, my job is to basically hit 'go' when the stage manager tells me to," Olsen said.
Olsen said that when a stage is lit with bright white, blue, red, or low orange lights, the light designer is conveying mood.
"'Moon Over Buffalo' is a very happy and bright show; it's a comedy, so we have a lot more lights than our other shows, and viewers will get that when they walk in," Olsen said.
Lights, like the rest of production staff, must work closely with the stage manager, director and everybody else on production crew.