Reign of terror draws to an end
Area band 'Automated Terror Machine' plays final show
The grindcore band "Automated Terror Machine," played their last show together before a cheering crowd in Appleton on Monday night.
ATM is the two-piece band with Stephen Peniston and Jake Szabo. The two have been playing together under the moniker ATM since their junior year of high school.
"I texted Stephen to see if he wanted to play in a hardcore thrash-punk band called "Automated Terror Machine" and he said he was in, and everything after that's been history."
"Jake had the chops," Peniston said. "He's a very good drummer, very well-trained, and it just came down to me being like, 'Hey, let's play in a grindcore band—hit this snare as hard as you can.'"
"We didn't want to be too repetitive, looking at what other bands are doing, but just wanted to be more unique," Peniston said.
"Once I learned what blast beats were, the most important thing was to isolate myself from other grindcore bands," Szabo said. "It's funny because if you hang out with us, we're not listening to crushing grindcore every day, we're listening to so much other stuff, and there's so much inspiration that comes from things other than music, too."
The band has not only played regularly in the local punk scene, but has also toured the country, playing shows in 35 states over the duration of two east coast tours, two southern tours, and two "Midwest weekend warrior tours." The band's last tour was a southern tour that ended in March.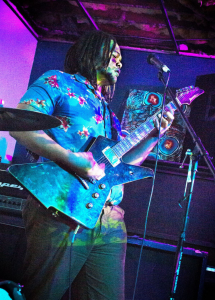 "It's honest-to-God one of the greatest experiences ever," Peniston said of touring. "It pushes you out of your comfort zone every day. You're in a new city every day, experiencing different cultures, meeting new people. It's such a unique experience to just say 'Fuck it,' and roll the dice and see where it takes you."
"You never know what to expect, and a lot of the time you'll walk away with the coolest stories," Szabo said. "We went like 20 minutes out of our way heading to Toronto on tour to see Niagara Falls. That was cool. It's really bittersweet because you get such a small taste of each city so you're always leaving wanting one more day."
Their time playing together has come to a close as Peniston is moving to Baltimore, Maryland. The two reflected on their time playing in the local scene before their last set together.
"Watching everything come up has been super sick," Szabo said. "Stephen was the only kid in the scene for the longest time, and now we go to shows and there're hella kids. It's really cool seeing younger people getting into it."
"It's been amazing to see the impact the local scene has had on kids has been awesome," Peniston said. "To see what it's blossomed into and to see how wholesome and sincere the community's become, because that wasn't always the case."
"Stephen really did a great job, so with him moving to Baltimore it's gonna be really interesting to see what happens," Szabo said.
The two have formed a particularly close bond after nearly 20,000 miles next to each other in a car, but now the two are going their separate ways. Peniston looks forward to his fresh start in Baltimore, but despite that, he feels bittersweet about his upcoming move.
"The hardest thing about leaving is knowing that I'm walking away from a good thing," Peniston said. "I'm walking away from what is literally one of the most wholesome punk scenes in America — there are four states I haven't been to and that's my cred for that statement — I love this place."