Pub crawl proves chaotic
A massive wave of binge drinking hit Oshkosh in the biannual Pub Crawl, where students, out-of-town friends and Oshkosh residents drank from early morning to late at night.
The event, which originated as a standard day of bar-hopping has largely degenerated to a spectacle of large house parties. This fall, partiers braved the mid-40-degree temperatures and afternoon rains for the event.
As the event becomes more house party focused, bars downtown have seen mixed results.
Distillery Pub manager Nick Wisler said the bar made about $1,000 more than an average weekend.
"It was definitely busier than any other weekend since last Pub Crawl, but it wasn't as busy as any other Pub Crawl I've seen," Wisler said. "I know it's more house parties now and everything else, but maybe with the weather it didn't seem like as many people were out."
According to Fletch's Local Tap House manager Ryan Tuskowski, Pub Crawl doesn't draw a crowd for the bar anymore.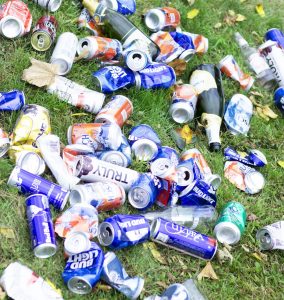 "We get busy after 11 because we have the DJ, but nowadays it's not really any different from a typical weekend," Tuskowski said.
The university takes extra precautions to control the movement of people on campus. The university restricted parking over the weekend, refused non-UWO guests access to the residence halls for the weekend and ran security check-in stations from 7:30 p.m. on Friday to 3:30 a.m. on Sunday.
"The hardest thing can be when students are too drunk to remember who they are or where they are," Nikki Yancey, a CSO who worked the security check-in station in Webster Hall late Saturday night, said.
There were still numerous problems, despite the University Police and Department of Residence Life's efforts and policies.
The UP dispatch received a total of 161 calls between the hours of 4 p.m. on Friday and 3 a.m. on Sunday, just two calls more than the 2019 spring pub crawl.
The calls included 12 alcohol-related calls, a third of which were for welfare checks. Five marijuana-related calls were made, resulting in two instances of a person possessing marijuana.
There also was one incident of "depositing human waste" near South Gruenhagen Hall. According to UP Chief Christopher Tarmann, this was most likely somebody urinating in public.