Broadcast received
"The Phantom Broadcast," a band from the Chicago area, swung through Oshkosh on Monday night on the second to last stop of a short Midwest tour.
The band, comprised of members Evan Opitz, Dave Hollis, Colin Rambert and Nick Soria dropped their most recent, completely self-produced, mixed and mastered album, "Antiquities, Volume II" on Nov. 1 after nearly two years of writing and recording.
The group's musical style is a mixture of genres, taking influence from jazz, rock, punk and classical. The band's rich compositions grow out of their wide-ranging listening habits and interest in experimental styles.
"When we first started working on this album we were doing a lot of listening," Opitz said. "We were listening to various artists and seeing if we liked certain records — the way a song is structured, or the dynamic range of the songs, the instrumentations — and try and emulate certain vibes."
When the group began recording "Antiquities, Volume II," their approach was very loose, and they weren't sure what their music would be like when it materialized.
"We started really abstract at the beginning, not really knowing how the songs would take form," Opitz said.
The band's desire to make a different sound is something they've stuck true to, despite fears of it not being well received.
"Something that I'm constantly reassuring myself of is that no matter what the music is or the art a person is making, there's a person behind it and that means that there may be a group of people that also enjoy that thing or may have also had a similar thought process," Opitz said. "So when we do make more daring compositional decisions with the songs, or when we take things in a different direction that maybe a different band wouldn't go, the reassurance is that there will be somebody who will enjoy this matter what."
The album "Antiquities, Volume II" was a battle for the group. The songs are cohesive, but many were initially stand-alone tracks.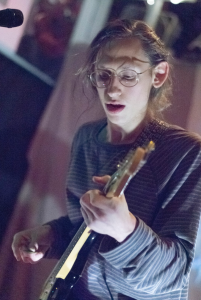 "Earlier on, a lot of the songs were about heartbreak, but now it's a bit more experience-based, and approaching those things a bit more level-headed, you know, trying to being to be in control," Opitz said.
The album particularly takes a lot of inspiration from classical and jazz music, pulling from the skills from Opitz and Hollis' technical repertoire.
"Evan has a lot of groove in his pocket," Hollis said. "He's really got a gift for this mixed-meter, head-noddable stuff."
The groove comes through on the newly debuted "Antiquities, Volume II," which the group was thrilled to have finally released.
"It finally happened," Rambert said.
"It's a relief to finally be done with the process," Hollis said. "That's the step. It's out. People can listen to it."
"It feels like the end of a chapter," Opitz said of the release of "Antiquities, Volume II." "A chapter that expands way further than just the music we play, and us being musicians, just us as people. Where we were all at life-wise when this album started is an entirely different place than where we are now, and I feel like a lot of that manifests on the album as a whole. That album is a physical representation of a huge chapter in all of our lives."