'Please Don't' expected to please online audience
The UW Oshkosh pop duo, 'The Astronomers,' comprised of Ben Baker and Michael Stensland, is releasing their latest and most highly anticipated single, "Please Don't," on Friday.
Baker and Stensland collaborated with another musician hailing from Wisconsin, Bronwyn Silk, is featured as a vocalist on this new track.
The track will continue a storyline which left off in their most recent track, "Area 51," where the end of the song features a sample of an answering machine saying "You've reached the Astronomers, leave a message." "Please Don't" begins with a message being left for the duo.
"It's been a fun process," Stensland said. "It's a little different from what we've put out, but it keeps that same energy and vibe." The song initially came together very quickly. Baker and Stensland were able to crank out the whole song's general structure within two nights in a burst of inspiration after a month-long creative slump.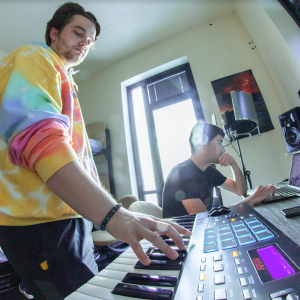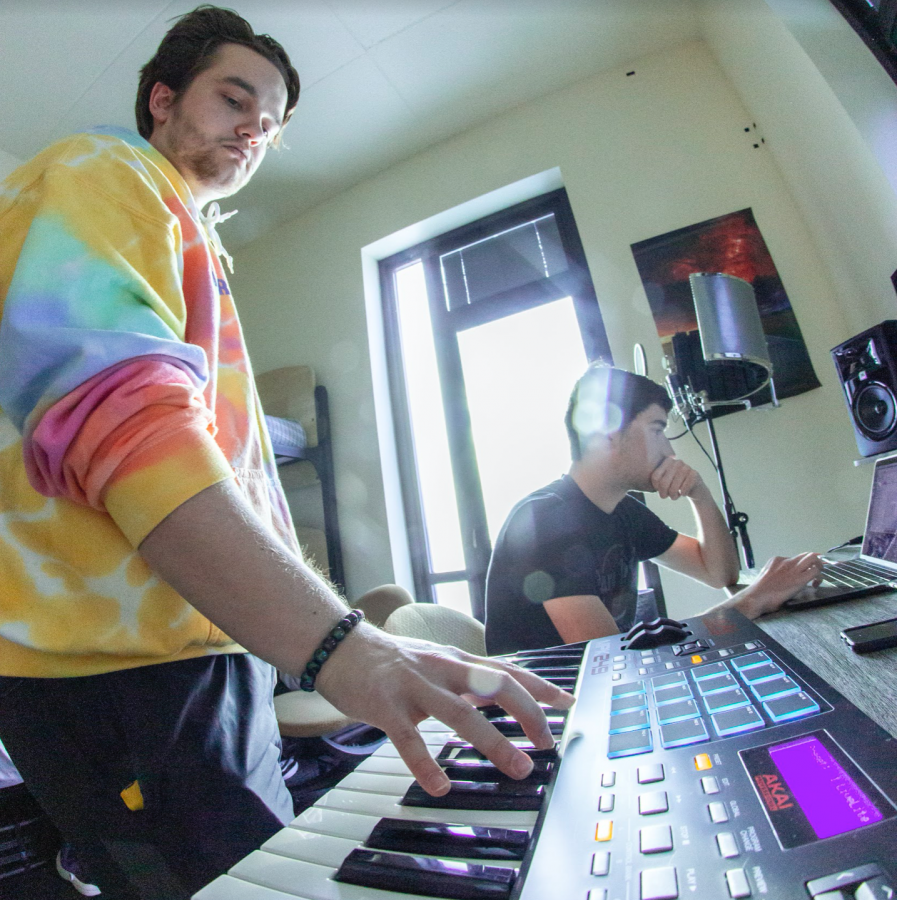 "Ben got a rough draft of the guitar and the drums and everything, and I just started singing over it, and it didn't take too long," Stensland said. "I think it was one of our fastest rough drafts of a song." "We had so many kind of just not-great ones lined up, and then when we finally had this song we were like 'Okay, this is definitely going to be our next one,'" Baker said.
Earlier in the fall, Baker and Stensland were searching for a female vocalist to collaborate with, when they both separately received suggestions to work with Bronwyn Silk.
"It's always hard working with artists in different states, but she's been great, she has a great voice" Stensland said. "We wrote the lyrics, Bronwyn and I, together over FaceTime, and then she had a guy over there that she would record with in LA, and then they'd send the files over to us."
While the first draft of the song came to Baker and Stensland quickly, the process of mastering the track and producing the final product was much slower. They collaborated once more with Zach Paradis, who features in the vocals in "Area 51," for the vocal production of "Please Don't."
"It was a long process," Stensland said. "I think it's harder when everyone's doing their own thing, especially around this time, because we finished the song by November, and it was just a matter of Bronwyn doing her verse, Zach doing the mixing, and then just getting it all together. I think we submitted the song to our manager on January 15, but I think people are going to be like 'This was worth the wait.'"
As the duo was producing the new song, they constantly compared it to their previous work.
"Whenever I'm making something, I'm always comparing it," Baker said. "Like 'Is this going to be as good? Not as good?' We always do that. Maybe it's helpful, maybe it's not."
"I think we're always trying to find new inspiration to put into the songs," Stensland said. "Ben's getting better everyday with mixing and vocal production and everything, and my lyric writing is getting better everyday; it's because we're doing it everyday, and I think comparing is just something we naturally do because we're like 'Oh, this one was great,' but we're getting better every day. I don't think we're worried of this one not being as good; it's just got different things in it."
The song is Baker and Stensland's most highly anticipated release to date.
"Our pre-saves for this one are like six times what we've had for "Area 51," so people are ready for it." Baker said.
"It's just been crazy, the amount of people who are clicking the follow and pre-save button and taking the time to do that so it just goes right to their page when the song comes out." Stensland said.
"Please Don't" is available for pre-save on Spotify and will be released on Friday.