Playwright Richard Kalinoski : A total beast
In the Arts and Communications building on the UW Oshkosh campus, Richard Kalinoski sits in his office wearing light jeans and a shirt and tie beneath a Calvin Klein zip-up jacket. Books of plays and papers sit every place, and behind the door a blown-up review in the Courier-Journal of his play, "Beast on the Moon" adorns the wall.
"Beast on the Moon" is Kalinoski's most successful play, having been awarded numerous Molière Awards, Ace Awards, being recognized by the American Theatre Critics Association as the best new play in America from an emerging playwright in 1996.
It also received the Khorenatsi Medal on behalf of the country of Armenia by former Armenian President Robert Kocharyan and the Agnouni Award from the Armenian Relief Society of North America.
But success did not come to Kalinoski quickly. He attended the undergraduate program at UW Whitewater studying English. He was mostly interested in writing poetry, but chanced upon a summer program for American students to study at Oxford in England, where he took a course about Shakespeare.
"I was fascinated with the process, and fascinated with doing it, and so when I came back to my home campus at Whitewater, I just said 'Well, I think I could write a play,'" Kalinoski said. He ended up writing a full-length play in about a semester. "I ended up getting some acting students together — I wasn't in the theatre department, I didn't even really know them — and we ended up presenting it in the basement of a high-rise dormitory."
Kalinoski ended up creating a theatre company, the Wells Theatre Company, named for the Wells dormitory that it was founded in, and he ran that through the rest of his academic career at UWW.
After graduating with a Master of Fine Arts in playwriting from the elite Carnegie-Mellon in Pittsburgh, Pennsylvania, Kalinoski's career splintered off into multiple experiences surrounding drama; directing, teaching in a high school theatre department, the head of a prominent children's theatre in Seattle, Washington, and eventually ended up at Nazareth College in Rochester, New York.
Kalinoski's work on "Beast on the Moon" began when he was teaching at Nazareth College. But the story's origins begin much before then. Kalinoski had been married to an Armenian-American woman who had parents who had survived the Armenian genocide. One spoke English, and Kalinoski was able to spend time speaking with them and learning about their experiences.
"I had not contemplated writing a play inspired by them," Kalinoski said. At the time, he was in graduate school and he wrote a play called "Lifetime" about an Armenian family with children, living in the midwest. "[Lifetime] was produced at my graduate school and I didn't really know what to do with it, and many years passed, and a colleague of mine at Nazareth College said, 'There's something here of value; you need to revisit this.'"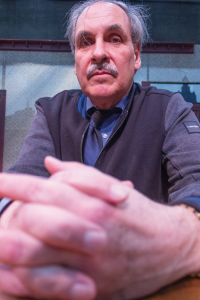 Kalinoski took her advice, and he took up his pen and fashioned a single, long scene — what's now the first scene and nearly a quarter of the play. He invited friends and acquaintances to semi-public readings he had arranged, which led Kalinoski to write more scenes, a full act and so on until the play was completed.
Kalinoski finished the play in 1995. In all, the writing took about two years; two years of writing, interviewing Armenians he had met in the Rochester area and a friend whose father was an Armenian historian to hear their story.
"By 96 I was starting to get offers from across the country," Kalinoski said. "96-99 I had productions in various places in the U.S. and I think it was in 98 that I got an offer to have it produced in London and Paris. I think it was in 2001 when it was done really seriously in Paris and it won a bunch of awards, which eventually led to a whole bunch of productions across Europe, and they're still going on."
Having graduated from Carnegie-Mellon in 1972, it wasn't until 1995 when Kalinoski saw significant success and recognition given to his works, after being accepted to the prestigious National Playwriting Conference for his play "Between Men and Cattle," as well as "Beast on the Moon's" completion and increasing success.
"It's been mostly a blessing, but there can be a real serious mixture as well," Kalinoski said. "It's also been often confusing because having your play produced in other countries appears to be promising, or exciting, and worthwhile and all that, but sometimes it can be awkward."
Awkward, Kalinoski says, because sometimes theatres will take liberties with his play without first consulting him such as when a well-established community theatre added an extra character. Kalinoski said the play can't accommodate any other characters on stage.
"It was produced in the Moscow Art Theatre in 2004, and I went for the opening," Kalinoski said. "They had gone through the formal procedure of getting permission to do the play, and my agent and I had agreed, and that was great, and I was excited about it because it was the Moscow Art Theatre, which was founded in 1898."
When Kalinoski got to the theatre, the company still hadn't paid him the advance, which is interestingly called an advance because it's meant to be paid before the production. At the theatre, Kalinoski was given the money in cash.
"They ended up doing the play for 13 years and they've never paid me anything beyond that first episode of paying me American dollars in cash," Kalinoski said.
Overall, the experience for Kalinoski has been positive.
"It's been exciting, obviously and illuminating and at times joyous," Kalinoski said.
Kalinoski's "Beast on the Moon" premiered on campus Feb. 27, and will be presented again this weekend, although Sunday's performance is sold out. Tickets can be purchased on the theater department's website or in the box office of the Frederic March Theatre.