Stay entertained while social distancing
The rapid spread of COVID-19, otherwise known as the coronavirus, has put a temporary hold on American business as usual.
Most, if not all, UW school systems have extended their spring break by at least a week and are making the move to online classes as we try to tackle this virus. UW Oshkosh is one of these schools.
This decision comes with the idea of social distancing as an attempt to limit the spread of this disease.
Many people are referring to this as "quarantining" themselves. Regardless of what you want to call it, sitting at home all day can get old very quick.
Here's some things to do to stay busy and entertained all while avoiding going outside.
Clean up, wipe down, sanitize
There's no time better than now to clean, sanitize and organize wherever you're staying during the quarantine.
Whether your personal space is confined to a room or dorm, or you have your own apartment, you should take this opportunity.
Although cleaning might not be fun to some, it is a great way to pass time.
Throw on a nice playlist to make it a little more enjoyable.
Make it a group effort and involve roommates or family.
Make sure you sanitize heavy traffic areas like doorknobs, handles, TV remotes, laptop screens and keyboards.
Don't forget your phone screen as well.
When you're done, not only will you get to experience that amazing feeling of being in a clean space but you'll also have peace of mind knowing that you've done your part in trying to lessen the spread of the virus.
Start a new show
You may think that you have watched every show on Netflix, but obviously you haven't.
Because of an algorithm, streaming services only show you a select few shows and categories that they believe you will enjoy watching.
Step outside of your comfort zone and start a new show that you normally wouldn't.
If you're used to comedy, try watching a mystery.
If you like documentaries, go for a sitcom.
Streaming services usually have series originals that they produce through the company, ranging through the genres, that would be great choices to get invested in.
With school responsibilities on hold until March 30, now is the perfect time to binge something new.
Read a book
Let's be honest, leisurely reading is an opportunity that we rarely get to enjoy.
After reading chapters upon chapters of assigned textbook readings, reading more words might be the last thing on your mind.
What better a time to pick up that Barnes and Nobles book you bought last year that's been sitting on your desk ever since.
Or better yet, order that book that you've been thinking about reading and get to it.
Grab some snacks, your favorite drink, find the comfiest place you can think of and crack open that book.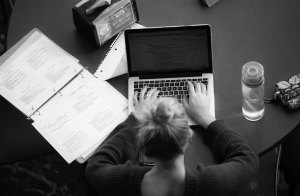 Pick up that old hobby
You know that thing that you used to love to do before the responsibilities of being an adult took over everything in your life?
That old hobby that used to bring you pleasure?
Now is the best time to pick it back up.
With the newfound free time that the social distancing brings, you could not only go back to your roots but improve on your craft.
Practice some makeup looks that you normally wouldn't do, pick up that pen and get back to writing poems, set up that canvas and start painting again.
Do whatever it is that will bring you some joy and comfort in this time of stress and chaos.
Rearrange your space
Take the time to map out and design how you want your space to look.
Rearranging your area, whether it be your room or just your desk, can make you feel refreshed and motivated.
Find ways to open up space within your area to give it a better feel.
Even something as simple as moving your bed from one wall to another can help improve your space.
Find old trinkets and knick knacks in your area and give them a new purpose.
Do small DIY projects within your home to add flair to your space. YouTube videos are a great source of inspiration for rearranging your room and finding ways to add to your space.
Take care of yourself
Most importantly, take care of yourself and your surroundings.
Although this virus might not be a "big deal" for younger ages, it is still a nasty cold that takes you off your feet for a short amount of time.
Stay safe, stay indoors and stay healthy.
You might think that that errand that you have to run is absolutely important, but nothing is more important than your health.
If you're feeling sick, go to the hospital to get tested and stay away from other crowded public areas.
It may not be life threatening for you but it could be for someone else.
At times like these we need to be more empathetic and caring to those around us.
And if you're hoarding toilet paper, try to donate it or make sure your neighbors or friends have a roll or two for themselves.