Wisconsin bands bring live concerts to people in quarantine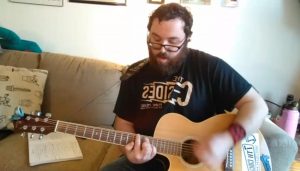 Mike Stevens, Daniel Saxes and David Stevens of the Milwaukee-based rock band Dropbear Collective settle into their chairs with their instruments in the dimly lit kitchen of the Saxes residence to perform to eager viewers watching through their phone screens.
The video quality is grainy, and the audio sounds a bit like it's coming from underwater, but the band still manages to show off its raw vocals and bold guitar riffs.
"I'm betting there's a lot of people in the world that just learned how to use Facebook Live," Mike Stevens joked at the beginning of the band's first livestream. "Including us," David Stevens said.
The raised stage and illuminating colors of the venues the band usually plays at have been replaced with a kitchen table adorned with a half-finished puzzle and a large blue tapestry hung over a window.
The usual quartet is even missing its drummer Mark Soriano, as he is quarantined away at his home in Milwaukee.
With social distancing guidelines making attending live shows and festivals impossible, artists have found other ways to bring live concerts to music fans stuck at home during the pandemic.
Dozens of live music events have sprung up across Wisconsin under names like "quaran-tunes," "living room concert" and "isolation livestream."
Dropbear Collective performed its live act on April 18 as part of the "Pandemic Theater" Facebook Live series created by Brad Hesse of the Kenosha-based punk rock band "2 Ball Screwball."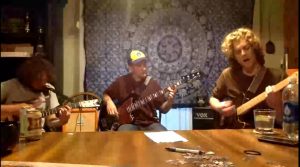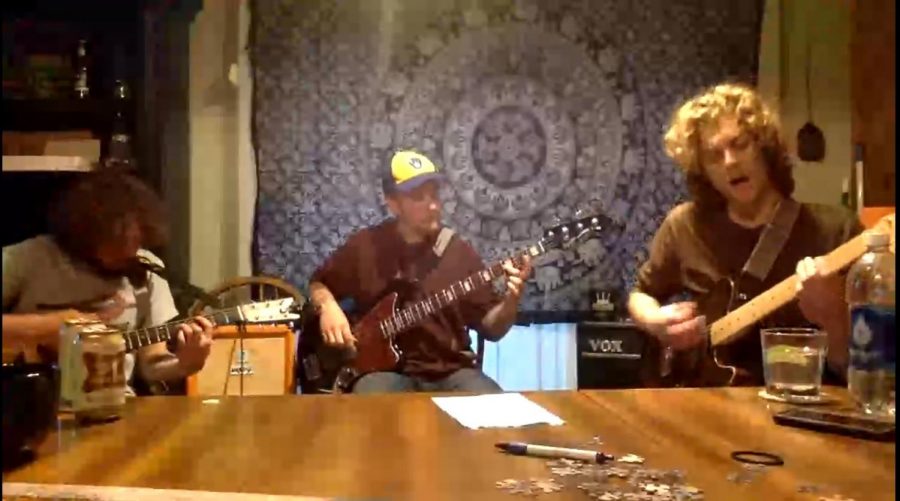 Hesse is one of many trying to support artists and bring live music to people bored at home.
Hess started his Punk Rock Storytellers "Unplugged" series on Facebook Live in February to highlight original music from punk rock musicians across the country.
"We were in the process of planning the second [show] when the quarantine was announced," he said. "Suddenly every musician was out of work, so I thought it would be cool to do a livestream webshow."
Hesse said he plans to continue bringing on a different artist every night while social distancing guidelines continue.
"I was really indecisive about [the schedule] at first," he said. "I thought weekly, but there are already a lot of weekly livestreams. I wanted to help musicians. You can help a lot more if it's nightly."
Hesse has showcased more than 30 artists on his Punk Rock Storytellers live streams.
Vocalist for the Oshkosh punk band BUD, Felix Fza, performed for the Pandemic Theater on April 22 wearing a pair of slippers and brandishing his acoustic guitar heavily decorated in stickers.
Despite his simple living room setup and missing entourage, Fza still manages to keep the fun, fast-paced style of BUD alive in his performance.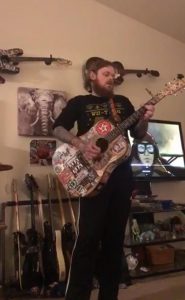 With all of BUD's bandmates stowed away in different cities around Wisconsin, Fza has been performing solo concerts during the shutdown.
"I've been doing mini shows on our Facebook just for the hell of it, learning new covers and trying to spice it up right now," Fza said.
Fza started doing Facebook Live shows after venues started shutting down and BUD was forced to cancel a release party for the band's new album "C'mon Jon".
"We had waited all winter and just started booking shows for our CD release party," Fza said. "So, I did an original livestream on the day we were supposed to have our actual release party."
Dropbear Collective had numerous shows fall through, as well as some scheduled studio time for an EP the band was working on.
Some festivals have rescheduled their shows for later in summer, but Saxes said a lot of stuff is up in the air right now for the band.
"There's a lot of music to be recorded," he said. "It's just a matter of getting it all together."
While festivals and venues remain closed, artists around the world continue to perform over social media platforms to keep music lovers and themselves from boredom. "If anything, it's something to do," Saxes said.
But Fza said there is a positive aspect to show cancellations.
"I think after COVID, playing shows will be a little bit more fun because I think people will be a bit more energized to go out and see local live shows," Fza said. "Hopefully, we can ride that wave of enthusiasm and get some bigger and better shows out of it."
Punk Rock Storytellers is live daily at 7 p.m. at https://www.facebook.com/punkrockstorytellersunplugged/
Calendar of performances:
May 6: Matt Pezza from All Systems Go
May 7: Gillian McGhee of Hi-Ho
May 8: Josh Mckelvie of Waiver Wire
May 9: Adam Hooks
May 10: Robert Knapp of Penknife
May 11: Ben Rouse
May 12: Mario Miner Jr from As the Crow Flies
May 13: Ethan Berkman from Opshional
May 14: Charles Cliff from The MFA
May 15: Bobby Hardy from A Few Too Many