Roe Park ice rink hosting free movie night
A new ice rink has been introduced at Roe Park in downtown Oshkosh and will host a movie night on Friday, Feb. 19 from 5 to 7 p.m.
Disney's Frozen 2 will play on a jumbo blowup screen while visitors have the option to either skate around the rink while the movie plays or bring a chair and blanket to watch.
Concessions will be available from Carrot and Kale, an organic juice bar and cafe located on Algoma Boulevard.
The Roe Park ice rink, a collaboration of public and private entities located at 408 Washington Ave., opened to the public on Jan. 19.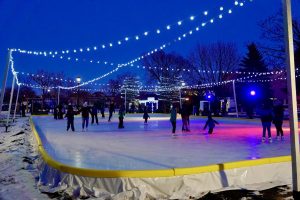 Open from 5 a.m. to 11 p.m. every day, the rink provides an outdoor escape for people looking to have some safe and inexpensive winter fun.
"Just having this rink here in our community is just going to be a huge bonus, give people some outdoor activities to do," Recreation Director Kabel Helmbrecht said.
Free skate rentals provided by Dr. Eric's Skate Club will be available on Fridays, Saturdays and Sundays from 3 to 7 p.m. when the rink is open.
Dr. Eric, or Eric Smiltneek, started a skate club in 2014 as part of an Oshkosh Area School District initiative to encourage lifelong fitness and healthy living for area students.
Dr. Eric's Skate Club still meets regularly at Menominee Park, providing free skates, hockey equipment and more to participants.
Oshkosh Parks Department Director Ray Maurer said that the construction of the rink, funded by generous donations, was requested by people who wanted to do something in the winter closer to the downtown area.
"The department has been funding an ice skating rink in Millers Bay at Menominee Park since 2010," Maurer said. "And after a few years at Riverside Park, we have moved the free outdoor ice skating rink to Roe Park."
Maurer said that the department quickly realized the flaws of the Riverside Park location after opening.
"The challenge at that site was that it was not a very level rink," Maurer said. "There was about a foot difference in pitch, which made it very difficult to get it frozen decently."
Maurer explained that the department was constantly replacing the liner of the rink, which quickly became very expensive.
"Staff from the department made alterations to the rink," Maurer said. "But ultimately, because the water wouldn't freeze in the deep end, we finally just decided we couldn't continue to replace the liner, so was there another location?"
Maurer said that the location of the new rink is much better, as with no river nearby, it cannot become a "wind tunnel" like Riverside did.
"The Roe Park rink is a lot leveler and at a good location near the YMCA," Maurer said.
Since opening, the Roe Park ice rink has been popular among Oshkosh residents of all ages.
"From what we're hearing, especially from YMCA staff and the general public, this rink has been used more this year than other years at previous rink locations," Maurer said. "It's heavily used this year."
Maurer said that Dr. Eric's Skate Club has been a huge asset to the rink, but the problem has been getting volunteers to help distribute the free skate rentals.
"Unfortunately with the colder weather now, the volunteers aren't real keen on coming out in these conditions," Maurer said. "So we've had to cancel those free skate nights simply due to a lack of volunteers."
If you or anyone you know may be interested in volunteering, you can visit the Oshkosh Parks Facebook page and message them or find more information there.
Also be sure to follow Oshkosh Parks Department on Facebook for the latest rink event updates.