Gaming gains popularity
Quarantine has been a time for many to find new hobbies, and a fair number of people have taken up gaming in both the traditional and non-traditional sense.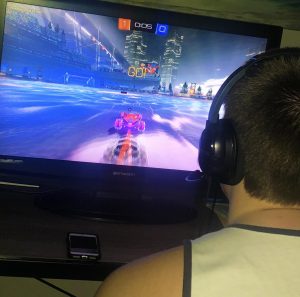 With all the extra time found during the world shutdown, many people turned to creating lives in fictional worlds where COVID-19 was not present.
A popular game has been Animal Crossing: New Horizons, released right at the peak of quarantine exclusively to Nintendo Switch, where many escaped reality by creating their own island.
Other games, while not as recent but still popular, such as Stardew Valley and Minecraft, came back into style as well, with people enjoying the theme of creating their own worlds.
Hunter Ward, a senior at UW Oshkosh, said that his favorite games over the duration of the pandemic have been Rainbow Six Siege and Rocket League on Xbox.
"Rainbow is higher intensity and more competitive while Rocket League is more casual," Ward said.
Rainbow Six Siege, a tactical shooting video game, and Rocket League, a vehicular soccer game, rank you based upon your skills, which are determined by your win-loss ratio among other factors.
"Both have ranking systems, which is why I like those types of games," Ward said. "It's cool seeing your rank get higher the more you play and the better you get."
Alyssa Hagen and roommate Sarah Berens, both sophomores at UW Oshkosh, said how they themselves go back to classic video games as well, mainly Mario Kart.
"It's fun to be able to sit down and play the classic game together with our other roommates," Hagen said.
Mario Kart is a classic game that has gone through many forms of upgrades, but Hagen and roommates still enjoy the classic version made for Wii years ago.
"Even though it's a little outdated technology wise, we always have fun playing the game when we need to relax after a stressful week," Hagen said.
While video gaming is ever popular in today's media, some still find the classic style of board games to be equally entertaining.
University of Minnesota student Lucas Flom said that board games are still in style for him because he loves "being able to play it with people and all of the little pieces associated with it."
In times like these, there is a certain comfort that can be found in being able to safely gather with others and play in person with classic board games and video games alike.
One classic game that has seen a comeback in recent years is Dungeons and Dragons, a fantasy role-playing game that dominated in the late 70s and 80s.
This may be due to the game being featured in the Netflix original "Stranger Things," where most of the monsters are named after creatures from the game itself.
Another reason could be that, like many of the video games mentioned above, it is a fantasy world that players can create themselves to escape the harsh reality.
Flom himself plays Dungeons and Dragons, and mentioned that he still has been able to play throughout COVID-19 with online servers that connect players together.
Even older games have been reinvented digitally, allowing their popularity to increase with the digital world of today.
Quarantine brought about many changes that led to the creation of digital worlds to live out fantasies that are not found in the real world with the help of gaming, video and board alike.