Shamrock scavenger hunt begins
The Oshkosh Parks Department is hosting a scavenger hunt where residents are encouraged to find a shamrock named "Sassy" that is hidden somewhere new in the City of Oshkosh each week of March.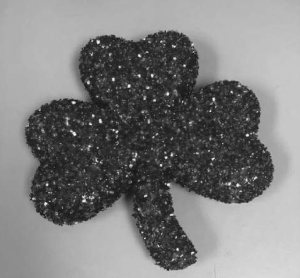 The department's Facebook page posts riddle-like clues on where to find Sassy every Tuesday and Friday.
First, clues are given on the department's Facebook page, and if the character is not found, an additional clue will be posted to help people find it.
Previously, the department has done similar scavenger hunts in December with "Ernie" the elf, in January with "Flaky Francine" and in February with "Hearty Herb."
In each scavenger hunt, once the character is found, the department encourages the participant to post a picture tagging the Oshkosh Parks Facebook page.
The first week's clue was, "Being tucked away in a quiet neighborhood is quite nice for my first hiding spot; And there is plenty to do here if you are just a wee tot! there is an open field and a playground around; For older tots there is baseball and tennis…the opportunities abound."
During week one, Sassy the shamrock was found at 44th Parallel Park on 2230 Allerton Drive by a family in the community.
Week two's clue is, "I'm out here in 'Event City' for my next hiding place, while chilly right now this is such a beautiful space! Take a walk and come find me, so these beautiful views you can also see!"
Jen McCollian, the revenue facilities manager for the Parks Department, said that the department wanted to be able to provide a COVID-19-friendly way for families to get out of the house while also staying socially distanced.
Additionally, she said that they decided to do these scavenger hunts as a way to promote the parks.
McCollian also said that some of the parks that they have been using for the hunts have been in smaller neighborhoods that most of the community is not aware of.
"We try to also do the scavenger hunts in parks that we have recently updated and have done projects in," she said. "This way we can showcase the new projects that we have done."
For more information, go to the Oshkosh Parks Department's Facebook page facebook.com/OshkoshParks/ and stay tuned for more clues regarding the whereabouts of "Sassy" the shamrock.