Haunting at Horizon?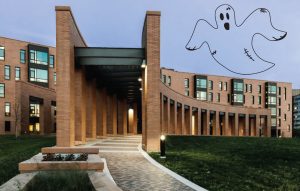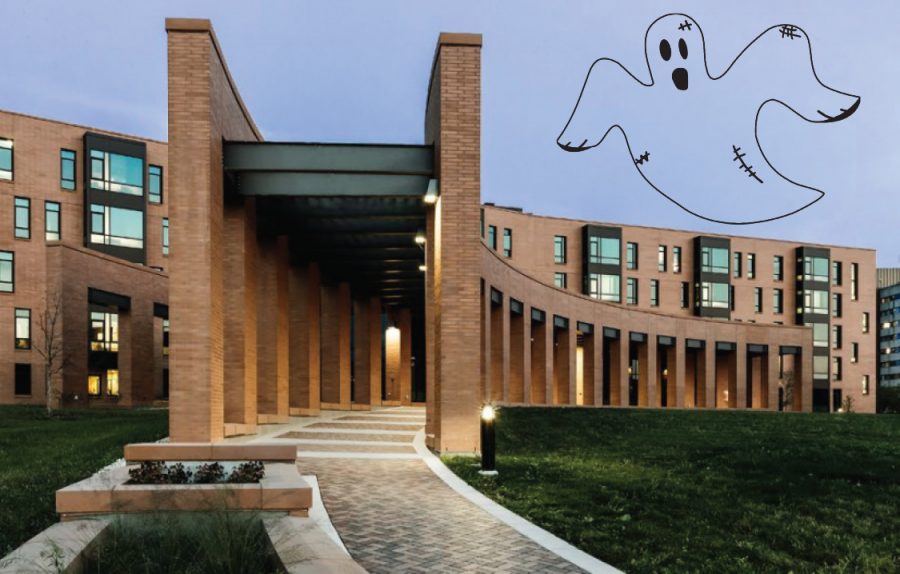 It seems there are some uninvited residents lurking throughout Horizon Village, a residence hall on the UW Oshkosh campus, as stories of ghosts and spirits have begun to spread around campus.
Horizon, being only about 11 years old, is a newer building compared to most on campus, but this doesn't make it resistant to hauntings.
In fact, sophomore Alyssa Hagen and her roommates have all recently experienced what they believe to be a ghostly presence haunting their suite and those around them.
"I live on the 5th floor, no one is above us and it sounds like someone is running on the roof," Hagen said. "There's a lot of weird banging that happens too."
While it is normal to hear lots of noises with students going in and out of rooms, hearing unusual noises from the roof at the top floor is certainly strange.
Even though these occurrences can be easily chalked up to nothing more than common noises, Hagen goes on to state happenings that cannot be explained by logic alone.
"One night we heard our neighbors screaming and running out; turns out they had heard banging and banged back," Hagen said. "Their laundry basket and desk chair moved immediately after they did so."
All these strange events led Hagen to do some research to find an explanation for what was going on, but instead, she found some very disturbing information.
"One girl died from a heart attack in the dorm before Horizon Village," Hagen said. "Three girls were buried underneath the dorms that used to be here before Horizon was built."
It is true that Sarah Jaburek, a 20-year-old student at UWO, was tragically found dead in Nelson Hall in 2003 as a result of heart complications. However, it is unknown whether or not the second part of Hagen's statement is true.
Some may assume that just because there is only one source, the stories could be false, but another student from the other side of the building is experiencing the same paranormal activity.
Sophomore Hannah Gilbert, who lives down the hall, gave her perspective on the supposed hauntings happening throughout the building.
"One day, I was alone in the dorm and I went to put something in the living room," Gilbert said. "I saw a female on my couch, sitting with her legs crossed. Her hair was sort of see through."
This wasn't the only time Gilbert and her roommates encountered a spirit.
"Another night, I looked down the hallway and saw a dark, tall figure standing at the end," Gilbert said. "My roommate Allyson saw me freak out and started crying because she had fear."
The girls also experienced doors slamming, sinks turning on and off and door handles turning back and forth at early hours in the morning.
This is not the first time rumors of hauntings in residence halls have circulated around campus.
In fact, a Tumblr account exists called "uwoghosts," which features reports dating back to 2018 regarding the paranormal activity occurring in Evans Hall.
On Feb. 25, 2018 at 12:35 a.m., UWO student Ethan reported on Tumblr: "We heard a noise which sounded like a chair being dragged across the floor in room 420 so we ran up to check it out. There was nobody upstairs and there was nobody in the bathroom. We left and headed back down the stairs. Down the first half of the stairs, we heard a bang, as though something had been dropped. We ran right back on up, but again, found nothing."
Jocelyn Hart, a UWO alumna, also discussed her experience with a dark presence in Fletcher Hall in an earlier Advance-Titan article from 2015.
Hart and her freshman roommate said that after learning that no one had stayed in their room for seven years prior to them, they started hearing noises in the night and could feel a physical presence around them.
"When we started recording at night, 3 a.m. is when you could hear pencils moving on our desks and the plastic from our groceries rustling," Hart said. "There was even a clip of the sound of nails being dragged across our desk."
It wasn't long before the two roommates decided that they needed to take action.
"Eventually, it got to a point where we didn't feel safe in our room because we caught a clip of the spirit watching us while we slept," Hart said. "It was sitting at my roommate's desk and, unlike a normal shadow that goes away when the lights turn on, it slowly disappeared as if it was dissolving."
After moving out of her freshman dorm with her roommate, Hart said, "I 100% believe there are presences on campus. My Community Advisor freshman year was telling us how I'm not the only one who has claimed to have experiences on campus and that she had heard things herself when the dorms are empty over breaks."
Though these students' claims and encounters from both past and present perspectives cannot directly prove there are ghosts haunting the dorms of Horizon, it leads one to wonder if something supernatural may be lurking throughout the building.
The residence halls may or may not be haunted, but these stories will definitely put you on edge the next time you find yourself alone in the dark halls of Horizon.