Tyler, the Creator's quest for pop sensibilities
Tyler Okonma, better known as Tyler, the Creator, released "Flower Boy" four years ago.
In 2017, the 30-year-old world phenomenon introduced a more emotional and serious side to his creative world.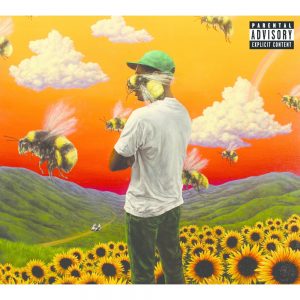 In prior releases, the rapper made music that was crudely humorous and oftentimes offensive to many people.
"Flower Boy" opened the opportunity for Tyler to produce serious rap songs with excellent pop melodies.
This record opened the door to new sonic exploration and laid the foundation for future pop landscapes like "EARFQUAKE" and "ARE WE STILL FRIENDS?"
His new interpretation of songwriting and the music world would help him to reach a new fan base and make successful albums like "IGOR."
In "Flower Boy," Tyler uses more emotion and a voyage of self-discovery to grab his fans' attention unlike any previous albums he has constructed.
"See You Again" possesses excellent melody and presents an empty narrative, where Tyler is longing for companionship.
The beginning of the track is very catchy, with Tyler rambling on about 20-20 vision.
The song then unfolds into an emotional roller coaster with a thumping beat and swooning orchestral instrumentals.
This track is a catchy, love-embellished experience and apparently Tyler, the Creator's favorite track of this masterpiece.
On this track, Tyler confesses his feelings for his love interest.
"Wonder if you look both ways when you cross my mind, I said, I'm sick of chasing. You're the one that's always running through my day dreams, I can only see your face when I close my eyes."
The next song on the album is titled, "Who Dat Boy."
Accompanied by A$AP Rocky, this track starts off with a haunting piano progression that unravels into distorted bass and a heavy drum beat.
The eerie sample in the beginning of the track is a great addition because it makes Tyler, the Creator's verse seem more intense than it actually is.
The contrast of the eerie piano tones with the thundering bass sounds creates a superb contrast in sound.
This track doesn't seem to have much lyrical significance; it's more so an opportunity for the two rappers to flaunt their prosperity and success.
The instrumental on this song is my favorite part.
Tyler, the Creator's verses overshadow A$AP Rocky's contributions, but nevertheless, he is a good addition to the song.
This one song inspired me to hear the whole record when it was released in June of 2017 as a single.
His vision for this album was clear: melody, while still remaining a poet with rugged ideologies.
On the track "911/ Mr. Lonely," we see Tyler putting all of these efforts into one song.
While the beginning is melodic with a soothing instrumental, Tyler keeps listeners on their toes with a semi-aggressive attack.
The chiming instrumental enters the sound realm, and a calm vocal section unfolds into the chorus.
"Garden Shed" opens with a dreamy guitar chord progression played by Tyler.
A slow drum beat, thunderous bass line and synth pad are incorporated around the 30-second mark.
The first minute could easily be mistaken for a laid-back indie rock tune.
Tyler, the Creator doesn't start rapping until the second half of the song, but the track is an excellent instrumental with the addition of rhymes added at the ending.
This album has a theme of encapsulating the listener with the instrumental for a minute or two before Tyler begins his verse.
It's not boring or bland either, because the instrumentals are coordinated very well.
This album was a turning point in Tyler, the Creator's career, and I think people will look back and realize the impact it had on his music.
He has grown tremendously as an artist, and all of his releases have contributed something special to the rap world.
But "Flower Boy" helped to introduce great pop melodies, experimental instrumentation and extraordinary rapping into one project.