Rock Band Raises Awareness of Human Trafficking
Human trafficking is a massive problem.
It's often called "modern-day slavery," and for a good reason: there are as many as 40 million people across the world illegally traded and abducted. However, for the average person, it doesn't seem like we can do a whole lot to stop it, but David Zach disagrees.
He's the lead vocalist and guitarist for the band Remedy Drive, also consisting of bassist Corey Horn and drummer Timmy Jones. On April 1, they were set to play their rock and roll-style music to a packed room in Reeve, but the music was just the beginning of the band's mission that night.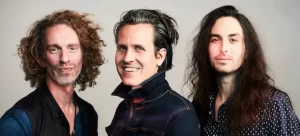 Remedy Drive works closely with Exodus Road, an anti-human trafficking organization that's assisted in the freedom of over 1,500 victims and the arrest of over 700 traffickers. "I've heard Remedy Drive give their message," said Eric Leverance, an event organizer and pastor at Portico Church, "And I wanted to do something about it. As a pastor, I wanted to see if our church could rally behind this cause and do something that's bigger than just Oshkosh."
David Zach does more than play his band's music at concerts. "From time to time, I get to join teams of national operatives overseas–men and women from Cambodia, Thailand, Latin America, or wherever the Exodus Road is stationed," Zach explained. "We have operatives who spy on criminal networks who illegally sell children."
Zach continued, stating that "our job with the Exodus Road is to use spy gear, software, and various techniques to lure traffickers. We gain their trust by acting as customers. We go to parties, venture through back alleyways, anywhere where we can find information about the young women being trafficked. We gather that information and join with law enforcement to make arrests."
Zach elaborated on a particularly harrowing story from 2020 in Thailand. His team ventured down a dark alleyway, knowing that young women were being sold nearby. He negotiated with a 15-year old girl to go with him, hoping to obtain evidence that she was being trafficked. "So I'm acting as a buyer," Zach explained. "That entails getting frisked by traffickers, but we have great technology that keeps us safe–where I'm at and what I'm doing is always being observed by our guys."
Zach wasn't always focused on human trafficking, though. His priorities shifted nearly a decade ago after watching numerous documentaries and movies about the predations of human trafficking. He elaborated on a particular documentary he watched with his daughter, which detailed boy soldiers being kidnapped and enslaved in an army. "My young daughter watched this documentary with me, and we cried together. She said, 'Dad, why God not protect those boys?' And I was devastated. I thought to myself, 'What am I doing? I'm trying to chase fame. I'm trying to be a rockstar." He had an epiphany at this moment. "I have a band. I'm going to use my band the way the documentary used their cameras."
His lyrics changed dramatically, reflecting the horrid conditions of young boys and girls ensnared in trafficking. But this decision didn't come without some consequences. "I had to leave my record label. They didn't think this music would sell. But we were able to get out of that deal."
Zach explained that his mission is to leverage his melodies to make the world a better place. "People say, 'Do you think you're going to stop trafficking?' No, I don't think so. But I know that I'm alive today, and my music is currency, so I'm going to use that currency for this cause.
"We talk about our work while we perform, and we invite people to join us. Sometimes that means people joining us overseas, but sometimes that means a few kids organizing a car wash or a bake sale to help fund our project." Zach described the story of a woman running a 5km race in stiletto high heels in support of his mission. "Our band's community helps fund the purchasing of spy gear and the cost of raids."
"I don't want to do nothing," Zach articulated. "My goal with the work I'm doing is to make trafficking more dangerous and hopefully slow down its pace. My goal with my concerts is to bring as many people alongside us as I can. If we are bringing people within the counter-trafficking space, that's awesome, but maybe it ends up being someone at the concert creativity developing a way to do something that I could never dream of."
Remedy Drive now tours around the country, shedding light on the realities of trafficking, with over fifteen more concerts this year. "We want to convince the people at our concerts that they have something to offer. Their voice matters, their fingerprints matter, and their time and art matter. That's my real goal."