Elsewhere Market
Mattie Beck, Asst. Arts & Entertainment Editor
May 4, 2022
When going to downtown Oshkosh in search of coffee shops, there are plenty to choose from, including one that recently opened up downtown: the Elsewhere Market and Coffee House.
The Elsewhere Market and Coffee House is a combined coffee shop for patrons to settle down with a cup of coffee and a small market where different vendors sell a variety of products.
The market itself opened in December 2021, while the coffee house addition just opened in March 2022.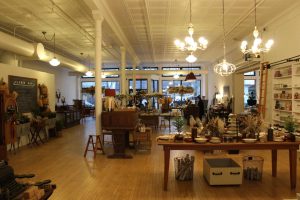 Jessie Tadder, the managing director said daily life at the place itself sees a variety of different people.
"Every day is different," Tadder said. "You will see early birds come in for their everyday cup of joe, while students are studying for final exams and working on projects together over our signature spiced lavender mocha latte."
In terms of the kind of coffee served in the coffee house, Tadder is excited to announce their own blend of coffee for Elsewhere.
"We've just launched our own Elsewhere blend of coffee," she said. "We partnered with a roaster out of Waupaca, WI to come up with an every day medium-light roasted blend that we think is a crowd pleaser," Tadder said.
There are a variety of drinks available at the coffee house, ranging from lattes and mochas to things such as chai tea and matcha.
Along with that, there is a variety of pastries available on certain days of the week.
"In regards to pastries, we currently provide Thunderbird pastries Wednesday-Saturday," Tadder said.
Thunderbird is a small local business that makes pastries, and Tadder enjoys helping out other small businesses within their own.
"They are a small local business, who we love—we try to support local businesses as often as we can, and they make some delicious stuff," Tadder said.
Along with grabbing coffee, many go and wander to the other side of the shop where the market is located.
"Our market side of the business serves as a great shopping spot for gifts, jewelry, ceramics, apothecary and specialty treats," Tadder said. "People are popping in and out to grab a coffee and tend to hang out for a while or shop around the market."
The business, the market is full of many different items for purchase.
"An array of gifts including home decor, candles, hand-made dried bouquet arrangements, ceramic dinnerware/mugs/vases made by UW Oshosh students, hand-picked jewelry, a zodiac inspired line of perfume…This is just a glimpse, because we have so much more," Tadder said.
When asked about her favorites, Tadder couldn't decide as the market itself is full of a wide assortment.
"No favorites here! The whole place is kind of magical, and makes you feel like you're stepping into a different city," Tadder said.
The building is full of many places besides just the market for people to go and enjoy the atmosphere Tadder talks about.
"This is an everyday spot for some people who are grabbing their daily coffee, and a destination shop for others to hit on the weekends," Tadder said. "We are lucky to have such a beautiful building to create and share this ambiance—we love it."
The Elsewhere Market and Coffee House is located on 531 N. Main St. and is open 7 a.m. to 5 p.m. on Mondays through Sundays.