New exhibit at Paine shines light on patterns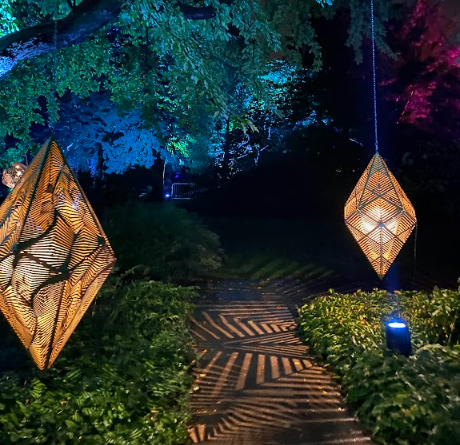 Whether art imitates life or life imitates art, there is one art exhibit that shines in Oshkosh. The Paine Art Center and Gardens has put together a fascinating display of lights in beautiful shapes and ways that are scattered inside the mansion and outside the grounds. 
The Paine Executive Director, Aaron Sherer said this is the first time an exhibit has taken place both behind closed doors and out in front of them.
 "The Paine was interested in doing an art exhibition that would encompass the house and the gardens," Sherer said. "We've never done an 'indoor and outdoor' exhibition before." 
Over the last few years, light shows and light exhibits have become more and more popular across the country and the world. Exhibits like the Immersive Van Gogh have piqued  public interest in lighting and projection exhibitions. Many art galleries have been doing their own versions of projection and lighting art and now it's The Paine's turn. 
The final product is what people often hear about, but they may  not realize putting an art exhibition like this together takes a village.
Sherer said The Paine needed extra help to pull off this light exhibition. 
"We had to hire 30 new staff members just for this exhibition," he said. "For instance, we hired seven new people just to answer phones for reservations. In total, more than 80 staff members and 50 volunteers will help to operate the exhibition for the nights it's open to the public … we had to raise a lot of money in sponsorships, and we need to sell at least 30,000 tickets for the show to break even."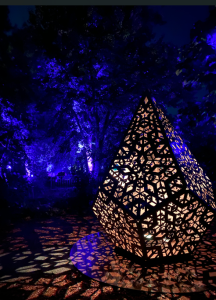 A lot of people put a lot of time and hard work to put this exhibition together. Unfortunately, this is a one-time event, but there may be variations and different types of light shows presented at other galleries.
The exhibit itself features sculptures by HYBCOZO (Hyperspace Bypass Construction Zone) and lit environments by Lightswitch.
HYBCOZO features arts and sculptures from Yelena  Filipchuck and Serge Beaulieu. They create large, intricate sculptures that use geometric forms with the use of light, shadow and perception.
Lightswitch is an international experimental light and visual design practice that creates multiple projects. Their projects include theme-park, concert and outdoor lighting experiences.
Both companies have collaborated before on projects, but The Nature of Light is their first time participating in a major exhibition. 
The Paine Art Center and Gardens will have the Nature of Lights: An Exploration After Dark exhibition open until Oct. 30, 2022. 
You can make a reservation at https://www.thepaine.org/events/the-nature-of-light/