New exhibit on environmental issues
The Allen Priebe Gallery's new installation introduced a dual exhibition on Oct. 13 from artists Emily Belknap and Katherine Steichen Rosing.
The exhibition draws inspiration from emotional relationships with nature in the context of modern environmental issues including fragmentation, invasive species and polluted watersheds. The two featured artists gave presentations on their work before joining the reception on Thursday evening. 
Belknap's part of the exhibition, "[Un]scenic Views," comments on the effects of environmental fragmentation and underappreciating landscapes that are not conventionally beautiful through sculpture and modeling. 
A common theme in Belknap's work, parking lots contribute to landscape fragmentation along with other environmental issues like draining problems, flooding problems and urban heat islands.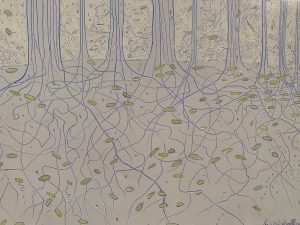 Her pieces "Yosemite Traffic" show the contrast between the views of the famously scenic Yosemite National Park from the valley floor and from the man-made parking lot. 
Her miniature scale sculpture  also features a parking lot with a lone, bare tree in the middle of it. She said this piece explores the attention we give to nature in medians, parking lots and other urbanized areas. 
"What I love about this miniature scale is that it draws people into the detail and so there's this combination of intimate detail and an austere, minimalist aesthetic," Belknap said.
Belknap said she uses minimalism in her work to convey the effect humans have on land, particularly with farming techniques and deforestation.
"In a way, I'm very critical of this aesthetic, even as I use it as a way of critiquing monocultures and simplified landscapes," she said. 
While Belknap's exhibit includes muted tones, miniature scale and minimalism, Rosing uses vibrant, abstract paintings to represent her relationship with nature in her exhibit "Ten Thousand Beings."
Rosing's paintings are reminiscent of not only her connection with Lake Winnebago and the Fox River, but also the relationship between different aspects of the natural world.
"I would go hiking and kayaking and think about the connection between the forest and the water," Rosing said.
Perhaps the most notable and certainly the largest piece on display, Rosing's "Entanglement" perfectly captures this idea. The installment is a cloth "tree trunk" hanging from the ceiling with its roots in vessels filled with water from Lake Winnebago and the Fox River, both bodies of water from Rosing's childhood.
"I used to walk across the Fox River bridge from my south-side neighborhood in Appleton to the downtown public library," she said. "Sundays were frequently spent walleye fishing with my family in Lake Winnebago or nearby lakes."
The installment provides an immersive experience with audio recordings of nature sounds and poetry readings. 
Rosing's vividly hued paintings also represent invisible processes in nature by using multiple layers of acrylic paint and scratching through them to create texture. 
"I imagine what invisible things and processes might look like and how all these tiny things are connected," she said. "I play with these ideas … to suggest hidden energies and the intricate relationships between even the most miniscule creatures and their roles within ecosystems."
Alongside Belknap's minimalist yet detailed commentary on our perspective of nature, Rosing's vibrant representations create an exhibit that explores the complexities of the relationship between people and nature.
The exhibition is open for viewing through Nov. 3 at the Allen Priebe Gallery in the UW Oshkosh's Arts and Communications Center.