UWO theater opens first spring production
The UW Oshkosh Theatre Arts Center opens "Peter and the Star Catcher," a play written by Rick Elice, on March 9 and runs through March 12.
The play is a part of their New Horizons season and is the first production of the spring semester. 
"Peter and the Star Catcher" is based on the novel "Peter and the Starcatchers" by Dave Berry and Ridley Pearson and follows an orphan named Peter on his fantasy adventures. 
The UW Oshkosh play is directed by the Head of the Acting and Directing Program, Jane Purse-Wiedenhoeft, who was excited to direct the show for the story it tells.
"I loved the improvisational playfulness of the story,"
she said. "The fact that it is a 'what if' pre-story to the Peter Pan story makes it an interesting project." 
The cast has been rehearsing for the production since the spring semester started, putting a lot of time and effort into it.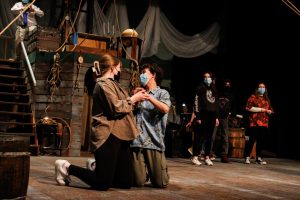 "The cast has been rehearsing 4-5 nights a week plus some weekend hours since the beginning of the spring semester," Wiedenhoeft said. "Rehearsals are usually 3-4 hours." 
The 12-person cast has pulled together to create a strong production with a beautiful set build, according to Wiedenhoeft. 
"The ship deck and desert island settings add to the playfulness of the play, as do the songs and colorful costumes," she said.  "The story of Peter Pan, the orphan, is actually a rather sad one, but when a little bit of magic is thrown in, the world of the imagination takes off."
Wiedenhoeft said the cast will be opening the show for the weekend on March 9. 
"We are excited to share the production with our audiences," she said. 
One issue that has arisen isn't with the production itself, but rather with tickets and being able to sell them. 
"Our ticketing system vendor has been out of commission for several days and may not be available for a few more," Wiedenhoeft said. 
Even with the online system down, tickets are still being sold for the production at the UW Oshkosh Theatre Arts Center Box Office, located at 1010 Algoma Blvd. 
Tickets are being sold from 11 a.m. – 2 p.m. Monday through Friday and also an hour before each production (cash or check only).
The productions of "Peter and the Star Catcher" will be held on March 9, 10 and 11 at 7:30 p.m. and March 12 at 2 p.m.