01 Vintage thrives downtown
01 Vintage opened downtown Oshkosh in late August, and since then has received lots of business from the Oshkosh community and beyond. 
Victor Kielman, owner of the store, is pleased with the high amount of business he sees every day.
"Business is absolutely phenomenal," he said. "I've been loving every second of it. Probably every day we have a new face come in the store and it's the best feeling ever."
Kielman has learned a lot from the business, mainly what customers want.
"I'd say the most important [thing] I've learned is what my customers love to buy," Kielman said. "I always keep my eye out for items that are super popular and in high demand." 
With running the business, there are a lot of highs and lows, with the highs being customers themselves.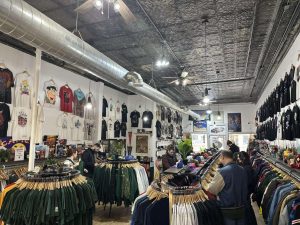 "The main high that comes to my mind right away is seeing how happy people get when they buy an item they've been looking for or have been wanting," Kielman said. 
"Not only that but seeing customers actually wear the items they've bought from my shop is such a surreal feeling and it'll never go away."
As for the lows, Kielman said they happen when business is slow. 
"Really the only lows I can think of was how absolutely slow the months of January and February were," he said. "Statistically speaking those are the slowest months for business in general, right after Christmas time and whatnot."
Kielman spent time throughout these months updating the store in different ways, starting with decorating. 
"I just actually finished redoing the entire back room," he said. "We're always adding more decor around the walls and everywhere in the store."
Along with decor, there have been new additions for clothes to the store as well. 
"We even added an entire new double rack to hang more clothes," he said. 
Looking ahead, Kielman doesn't have any concrete plans fort the store in the future.
"I don't know too many future plans as of right now, I'm still just honestly taking every day one day at a time and continuously trying to improve the store in anyways I can," he said. 
Kielman invites shoppers to come shop at 01 Vintage located at 415 N. Main St. in downtown Oshkosh for all your vintage clothing needs.