Sustainable Beekeeping Club participates in Bee Campus USA
UW Oshkosh is one of many campuses across the United States that prides itself on its environmental sustainability efforts, harboring programs such as the Sustainability Institute for Regional Transformations (SIRT) and the Green Fund, and advocating for sustainable activities such as recycling and composting. Standing at the center of these environmentally conscious efforts and organizations is UWO's Sustainable Beekeeping Club.
The Sustainable Beekeeping Club, started in 2020 by Oshkosh alumni Mariah Parkin, advocates for and facilitates environmentally sustainable practices and activities, as well as providing students with the opportunity to learn how to care for the world's most important pollinators: bees. Most recently, the club has been focusing on working towards becoming a certified Bee Campus USA affiliate.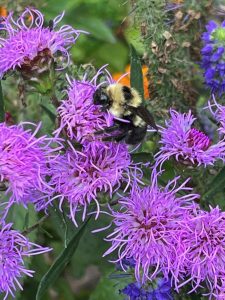 Bee Campus USA, a green initiative started by the Xerces Society for Invertebrate Conservation, is a national program that focuses on conservation of natural pollinators in an effort to facilitate environmental abundance and growth. Currently, only 166 colleges and universities across America meet the criteria to qualify for a Bee Campus USA certification, with a mere seven of these schools being located in Wisconsin.
The Sustainable Beekeeping Club hopes to make UWO the next campus to obtain this certification.
"It's another thing that's implementing sustainability and making us unique and making us stand out," club president Alyssa Bohn said. "We're saying, 'Hey, we're actually taking initiative' instead of just saying that we're sustainable."
In order to become certified as a Bee Campus USA affiliate, certain criteria must be met on campus. A few of these qualifications include creating a habitat for pollinators by increasing the presence of native plants, reducing the use of pesticides and creating signage advocating for pollinator conservation.
The Sustainable Beekeeping Club has been working tirelessly to not only meet, but excel in meeting the required criteria and to garner the money required to apply for the program.
"I think getting more native pollinators would be beneficial to the ecosystems here on [the] Oshkosh campus," Bohn said. "It will just promote more sustainability and obviously help us with keeping the ecosystems healthy and more intact.
Currently, active discussions regarding the steps and resources required for UWO's Bee Campus USA application are ongoing and are proving to be productive, with strong indicators that the club will be able to finish applying for the certification in the near future.
Students who are not part of the Sustainable Beekeeping Club can also lend a helping hand in assuring UWO obtains Bee Campus USA certification by respecting and advocating for native plant species on campus, fostering an environment where pollinators can thrive by respecting and maintaining pollinator nesting areas, acknowledging and making a place for signage related to Bee Campus USA and other green efforts and more. 
To learn more about Bee Campus USA commitments and initiatives, visit: beecityusa.org. To learn more about the Sustainable Beekeeping Club, contact club advisor Shannon Davis-Foust or club president Alyssa Bohn or visit the club's Instagram page.