Woldt keeps his seat on Circuit Court, Mugeraurer becomes mayor
Winnebago County Circuit Court Judge Scott Woldt will keep his position in Branch 2 after Tuesday's election, receiving 23,457 votes, or 51.4% of total votes cast.
Challenger LaKeisha Haase, 44, an attorney who had been appointed to the circuit court by Gov. Tony Evers as Winnebago's first black judge in December 2020, received 22,099 votes, or 48.6%.
For 61-year-old Woldt, it's the first election after he was reprimanded by the Wisconsin Supreme Court in 2021 for seven days because of misconduct allegations. In an interview with Northwestern, Woldt  said he had accepted responsibility for his actions.
While there will be no changes at County Circuit Court, there will be a new mayor in Oshkosh. Current Mayor Lori Palmeri did not run for re-election after she won the 54th Assembly District seat last November.
Matt Mugerauer, 40, who calls himself an "Oshkosh kid," received 7,737 votes, or 52.7% of the votes cast in Tuesday's election, while his opponent Aaron Wojciechowski, 26, received 6,953 votes, or 47.3% of the total votes cast.
Mugerauer's main issues campaigning were infrastructure, business development and housing shortage. He is currently the deputy mayor of the City Council. He was endorsed by the Winnebago County Republican Party, but stressed this race to have been nonpartisan.
Wojciechowski, also a City Council member, focused on diversity, sustainability and addressing homelessness He was endorsed by local Democrats. When he was 19, he became the youngest elected official in Wisconsin at that time.
Oshkosh Common Council
Six candidates ran for three seats on the Oshkosh Common Council. The top vote getters were Karl Buelow, 39, director of the Day by Day Warming Shelter, who received 18.3% of the vote; Joe Stephenson, 30, an urban planner, who received 18.1% of the vote; and Paul Esslinger, 58, a real estate agent, with 17.8% of the vote. 
Buelow has a bachelor's degree and experiences in nonprofit management and Stephenson has a master's degree in public administration. Esslinger has a bachelor's degree in marketing and formerly served on the council from 2000-09 and as mayor from 2009-11.  
The other candidates who failed to win a spot on the council included Bill Miller, who had 16.3% of the vote, Courtney Hansen, with 16.3% of the vote and Devon Hudak, with 11.8% of the vote. 
Oshkosh Area School Board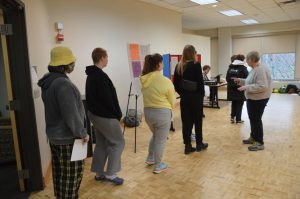 Incumbent Barbara Herzog and Kelly DeWitt won the Oshkosh Area School District Board election with 37.1% and 35.5% of the votes respectively.
Three candidates ran for election for two seats on the Oshkosh Area School District Board. 
Herzog, 74, works as a community volunteer. She is currently president of the  Oshkosh Area School Board and has been a member of the school board since 2013.
DeWitt, 36, ran for election for the first time. She is an economic support specialist who spent the last 11 years of her professional experience advocating on behalf of low-income  children and families.
Adam BellCorelli failed to make the cut with 26.8% of the votes.
The final vote  will be official in a few days.