UWO Children's Learning and Care Center to close permanently 

UW Oshkosh will permanently close the Children's Learning and Care Center on June 30, with Chancellor Andrew Leavitt citing low staffing and money issues as the reasons.
The center is licensed for 150 children and in the spring semester, only 50 were enrolled. Leavitt said the Center has an obligation to "maintain healthy rations of staff-to-children," and that hasn't been the case.
Leavitt also said staff hiring and retention has been difficult straining "use, quality and financial sustainability."
Families and staff were notified of the closure Thursday.
"We did not make this decision lightly," said Robert Roberts, the chancellor of finance and administration. "We know this decision is going to be hard on students and staff who depend on the center for their childcare needs."
Roberts said UWO is providing parents with resources to help them find childcare services.
"If parents need additional assistance, we have provided them with an email so they can contact us directly and we will assist them or direct them to the resources available to help them so they may continue their education and secure childcare," said Roberts.
Kathryn Klein, an English professor at UWO, had her son enrolled in the Center.
"This decision is devastating for our family," said Klein. "There are waitlists at all of the daycares in town and in nearby towns, many into next year (2024, not the academic year)."
Private care such as a nanny or a babysitter are not within the financial means of Klein and her spouse, and her son is only a toddler.
"This decision effectively means that my spouse and I are very likely, if not certain, to be without childcare once the center is closed," said Klein, "which is going to significantly impact our lives and the life of our son."
Klein said she and her spouse will find it difficult to work at the level they're working at now.
"I honestly don't know what we're going to do," Klein said.
Klein believes this decision will impact her son negatively.
"He loves his daycare and his teachers, and he's been getting wonderful, hands-on experience from wonderful childhood education specialists, as well as meeting and playing with many peers his age," she said.
Since her son is an only child, the Center is how he gets to interact with children his age.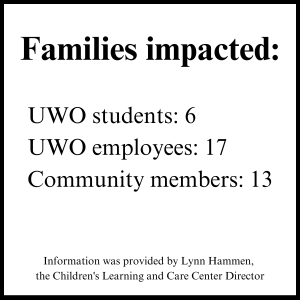 "He will no longer interact with other children at the same level until we can find him a new daycare," Klein added.
Channi Icenhower transferred to UWO after attending the Fox Cities access campus last spring. While she was at Fox, her daughter attended the daycare.
"I almost needed to enroll her for the fall semester and feel lucky something else panned out for me," said Icenhower. "Having a daycare center that accommodates students is crucial for many parent-students and reading the email felt like having the rug swept out from under me in the event that I do ever need the Center again."
Klein and Icenhower are both feeling frustrated and uncertain about the decision to close the Center.
"One thing this decision makes clear is that important components of university life are being defunded and unsupported, and this is simply one of many," Klein said. "While childcare affects all parenting people including students, faculty and staff, it always has a much more significant impact on women."
Klein wants assistance to parents in the university community and community more broadly to be prioritized "at the greatest levels as a major component of equality."
"I can't help but feel that this was entirely avoidable with some care taken in the months leading to this terrible decision," she said.
Klein said the staff at the Center were met with terrible shock at the news.
"The fact that they were not given any warning and were told after us is really appalling," Klein said. "They deserve much better than this."