Students explore interests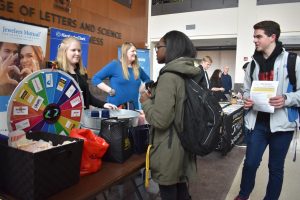 The University Studies Program held its first week-long Academic Open House event this week to give students the opportunity to explore various majors, minors and certificates offered at UW Oshkosh.
The event, which began on Monday and concludes on Feb. 15, was created to complement Quest II courses in order to show freshmen, who may be undecided on a specific major, what their options at UWO are. However, students at any point in their college career are welcome to join.
The Academic Open House showcases the offerings of various departments and gives an overview of the field of study by having students directly engage with faculty, staff, students and alumni to learn more about what kind of courses, career prospects, research opportunities and internships are available.
Gabriel Loiacono, associate professor of history and the director of USP said this Open House event was created due to the absence of a "major fair" for current students to get to know the opportunities within their own university better.
"It's difficult to get to know other majors around campus outside of classes," Loiacono said. "Even in classes it's a big commitment. It's a whole semester, it's three credits or more and you don't even necessarily learn about the major and what majors can do after college and what cool opportunities are available."
The UWO version of general education, a core part of a liberal education, is known as the University Studies Program. According to Tracy Slagter, former director of USP and associate professor of political science, USP stands out from other general education programs in the United States due in part to its innovate ability to shape students' first-year experience.
"We try to focus on first-year students as a whole cohort by getting them into those small Quest courses when they start that are just 25 students," Slagter said. "It's about personalizing your college experience."
Freshmen Makenna Huenerbein and Kaitlyn Kingsbury both attended the event as part of their Quest II courses.
As undecided freshmen, they found the event particularly helpful in helping them navigate their options in the College of Business.
"It's helpful for me because I don't know what I want to go into," Huenerbein said. "I'm thinking business, but I'm not sure what exactly in business, so I found out that I can go into business not knowing and then eventually find out."
Kingsbury, like many students, has changed her mind about what she wants to study and found an event like this to be helpful.
Slagter said she understands the issues first-year students face in finding the major that is right for them.
"These are the very students who are going to be facing questions from parents and grandparents like 'What are you going to do with your college degree?'" Slagter said.
Both Loiacono and Slagter agree first-year students are often not aware the options available to them as many of the subjects offered at a university are not taught in high school.
"It's all about exposure," Slagter said. "Without that exposure some students may not even know we have a political science or sociology department. They might not even know they exist."
Lociacono said it's rewarding to give students an in-depth look at what is offered around various departments at UW Oshkosh.
"This is a easy way for us to take the beautiful stuff we have all covered up and show it off," Loiacono said.
Senior Taylor Esser helped the sociology department talk to prospective majors by fielding questions about what life as a sociology major is like.
As a freshman, Esser said she did not have an opportunity like this to discover new areas of study.
"This would've been nice to have as a freshman," Esser said. "It makes it easier if you decide earlier in the game to waste less time because I definitely didn't really get into sociology until I was a junior."
The Open House will at least give students more confidence in knowing their options, according to Esser.
Tables and events coinciding with the Academic Open House can be found in various academic buildings all throughout the UW Oshkosh campus.