Turkish Consul speaks to UWO about terrorism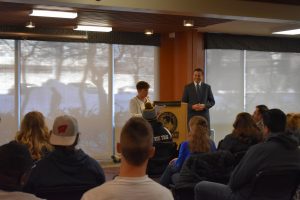 The Turkish Consul General Umut Acar spoke on Friday in the Gruenhagen Conference Center and discussed various topics about Turkey, focusing on terrorism and the roles Turkey and the United States play.
Acar said students should be aware that terrorism is a global threat that is targeting all of us, and in the eyes of a terrorist there is no difference in religious, ethnic and national backgrounds.
"We have to come together in fighting terrorism and especially fight against ISIS," Acar said. "Being an American or French or Turk or Muslim is no different, so we have to treat all terrorist organizations on an equal and same basis. We shouldn't be selective in our fight against terrorists. We shouldn't be saying that, 'Now this terrorist organization is not harming me, so I shouldn't waste my resources in fighting this.' That shouldn't be the approach."
Acar said his first message is to take all terrorism seriously and to come together within our alliance to fight them with a coordinated effort.
"The second message I can give the students here if they are considering diplomacy as their future career, like I am doing now, I can say 'Go for it.' It is a very prestigious, honorable job, representing your country all around the world, in this case the United States," Acar said. "If they can do it before I retire maybe we could be colleagues and see each other in different parts of the world."
Acar said he gives students a different perspective than what they see in the media as he is disappointed with the way issues about his country are being presented in the media.
"I also learned a lot because the audience, they have a kind of understanding of my country," Acar said. "They have a kind of sense of the reputation of my country, so I'm learning from them. It's always very helpful for me too, in my future work, to see which areas I should be more focused on to help people put things into perspective. So both ways I really learned a lot, and I hope that I was able to give them a different perspective about the things happening in my country that you sometimes cannot see in the media."
Assistant professor in the criminal justice department Durmus Camlibel teaches terrorism and counter-terrorism and said it was honorable to bring Acar to campus because he is the highest-ranking public official of Turkey, with his main focus being in the Midwest, on Turkish students and American citizens.
"If they need Visa or business relationships with Turkey, they go to his office, which is the consul office in Chicago, and they do so many official and other kinds of relationships," Camlibel said. "They also establish the relationship with America and Turkey, so he is a very important person of a foreign country for the United States."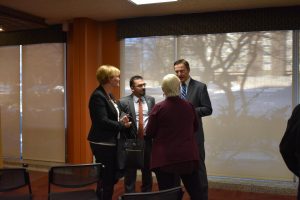 Camlibel emphasized the difficulties in defining terrorism.
"The statement, 'One man's terrorist is another man's freedom fighter,' has become not only a cliché but also one of the most difficult obstacles in coping with terrorism," Camlibel said.
Camlibel said it is not always easy to bring this kind of high-profile speaker to campus because they are often busy.
"Fortunately we have a very good relationship with him, and I also invited him previously to another university," Camlibel said.
Camlibel said our University unfortunately has very few international students and faculty.
"Most of our students are hearing something from one side, the American side, so this was a very good opportunity for our students to listen to something from foreign relations-related issues or international security-related issues from one other biased side," Camlibel said. "And also our students need to know what's happening outside of the United States."
Camlibel said he was surprised and thrilled by the student's intelligence level, the questions they asked and their participation with the event.
"It was controversial because one side defines a group as a terrorist, another side defines a group as a Democratic Union or as Freedom Fighters, so indirectly Turkey is saying to the United States government, 'You are supporting a terrorist group.'" Camlibel said. "So this is not a good statement for our government."
UWO student Zachary Collins said he learned the U.S. currently holds a political dissident from Turkey who started a coup attempt against the current government.
"I didn't know that there was a strain between U.S. and Turkey relations, I thought it was mostly focused on the Kurds," Collins said. "And knowing that brought different perspective in the rift between the United States and Turkey. That's a small rift because we are strategic partners, but the tensions are increasing in Turkey against the U.S. because we do hold someone who started a coup there, which makes a lot more sense than just the Kurdish issue. It's more than just a one-dimensional schism; it's a multiple-dimensional schism."
Senior and political science major Brandon Colligan said he thought the dialogue between the Turkish Consul General and the audience was productive.
"I felt that he obviously promoted a lot of the policies and positions of Turkey, but also had a lot of our shared interests in mind, some of which the audience may not have agreed with, some of them they might have," Colligan said. "But overall I thought it was a good talk."
Colligan said he was familiar with a lot of the issues discussed.
"I thought that the Turkish perspective is always something that's critical, not only with the U.S.'s relationships but with the international communities, and I felt that there's obviously points of disagreement and points of agreement that the U.S. and myself hold," Colligan said.