UWO Career Services hosts semesterly open house to display resources available to students
UWO Career Services held its semesterly open house event on Tuesday afternoon to show students what types of services it has to offer.
According to service engagement assistant at Career Services, Bryan Carter the open house gave students a chance to interact with Career Services employees.
"This is one of the few times that we stay open past 5 o'clock on the regular work day," Carter said. "A lot of open houses happen earlier in the day or they happen later in the day, but we've chosen this time because we know a lot of students have such busy schedules."
Students who attended the open house had the opportunity to check out the Career Closet and select up to four free dress clothing items. More activities included a spin-to-win wheel and a raffle drawing.
"It's important for them to be here because this is a time when they can connect with their adviser without setting up an appointment," Carter said. "They can get their resume done as they walk in. As you see, we've had about a dozen students go in and out of those rooms, getting their resumes done."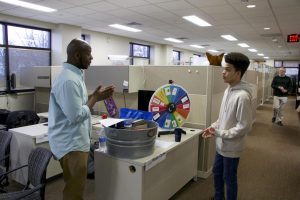 Service Engagement Assistant Bryan Carter speaks with student.[/caption]The open house also allowed students to take a look at what resources Career Services provides outside the open house, career resource specialist Menickalay Yancey said.
"We have Handshake, which is a big platform we use for students to get to know employers and apply for jobs," Yancey said. "Again, we offer drop-ins for students to be able to get their resumes and cover letter reviewed, and we offer advisers who can help them with career exploration just in case they are in doubt with what they can do with their major."
Sitting down with an adviser to go over a resume seemed to be one of the most popular activities at the open house. Freshman biology major Hannah Mider said this is why she came to the open house.
"I'm very interested in getting a job on campus and building a professional profile," Mider said. "I just applied for a job, and I want to get some feedback on my resume and cover letter."
Yancey said she was encouraged by the number of students who took advantage of the resume review.
"It's always good to have your resume looked at," Yancey said. "We do make sure our students' resumes are at the top because we know what employers look for."
Carter said he hopes to see students who were at the open house on Tuesday stop by Career Services again this semester.
"There's always room for improvement and that's what our office always says," Carter said. "No matter how professional you are, there is always an area where you can improve, especially when you're a student at this University, to learn. You should always have that spirit of a learner."