Campus ministry helps rebuild Houston over break
Fifty-six UW Oshkosh students, staff and myself included dedicated their spring break through a campus ministry called His House Christian Fellowship to rebuild homes, businesses and churches in Texas that were affected by flood damage from Hurricane Harvey.
Hurricane Harvey made landfall in southern Texas in August of 2017, causing $125 billion in damage and 108 deaths, according to Moody's Analytics.
This was my third spring break trip with His House, with each trip being in a different location and each trip being unique.
The group arrived safely in Houston on Saturday, March 17 around 3 p.m. at the two separate churches we were staying at.
Approximately half of the group stayed at Second Baptist Church, while the others stayed about three miles away at Kingwood Church of Christ.
Both locations were accommodating and welcoming to our group. They let us stay in conference rooms and we all slept on cots for the week.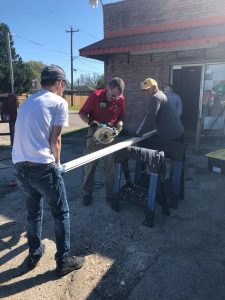 All of the spring break mission trips I have been on were in the south and I have found that the phrase "southern hospitality" has become more true each time.
While the remainder of Saturday consisted of getting settled in and Sunday was made up of attending church and traveling to Galveston Beach or Downtown Houston, depending on where individuals wanted to go, it was not until Monday that the work began.
The group of 56 seems like a large amount of students to travel with and account for. However, the group is so large for the swole reason of being able to do the most amount of good in the four weekdays we are able to work. At one point, I believe there were as many as four different groups of us working at different locations.
On Monday, I was part of a group that started off at a small ranch-style home that was severely damaged by the flooding due to the incredibly high levels of standing water during the storm.
The 24-hour nonstop heavy rain Harvey brought over the course of six days dropped 27 trillion gallons of water all together, according to WeatherBell. Furthermore, some regions of Texas had recorded over 50 inches of rainfall.
After the high levels of standing water took its toll on buildings, much of the siding, drywall, foundations and more were, and still are, rotted. Most of our work for the week consisted of replacing rotted siding and drywall at the water-damaged levels.
Although my Monday started at the flood-damaged home, I was eventually sent to a local church to put together bunk beds. About eight students were selected by a worker with Rebuilding Together Houston to complete this project.
I learned Rebuilding Together Houston is one of the many non profit organizations fixing flood damage that is easy enough for a student to help with. For example, things like replacing drywall, siding and painting are deemed simple enough for anyone to do. The rest is contracted to professionals.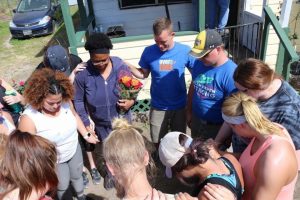 The task of assembling bunk beds for the church lasted the remainder of my Monday work day, which started around 8 a.m. and ended at 4 p.m.
What we did in our free time after work consisted of showering, going out to dinner and then typically going to get ice cream, shopping or just relaxing at one of our churches playing board games.
On Tuesday, the second day of our work week began as I spent the morning with four other individuals taking apart a damaged counter at a small convenience store. In the afternoon, I worked at the flood-damaged home I was originally sent to.
The flood damage at the house was about four feet high, which meant all drywall and siding about four feet up needed to be replaced. Replacing the rotted wood, priming and painting took the remainder of the week.
I can't speak for certain what other groups were up to the rest of the week, but I know many of us did the same type of work. I had heard one group even got to welcome their homeowner back into their house, which sounded like a great experience.
Although mine, and a few other groups, did not get to meet the homeowner whose home we were working on, we were all reminded on a daily basis that while getting credit and being recognized is nice, it is not why we went on the trip.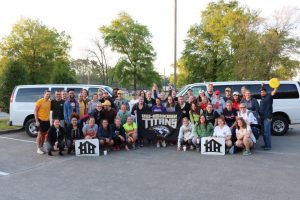 The 56 students and His House staff went on the trip to be selfless individuals and serve those who are in need and have nowhere else to turn.
There is only so much work we could get done in the four days, but there is a steady flow of individuals coming after us to finish what we could not, who share the same goal of helping the people of Houston return to their normal lives and homes.
His House Christian Fellowship meets every Tuesday night at 7 p.m. in Reeve 212.