Rainbow Alliance hosts annual drag show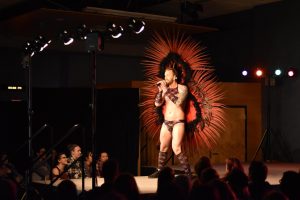 The Rainbow Alliance for H.O.P.E. held the 2018 UWO drag show in the Reeve Ballroom on Friday.
The event featured headliners Taylor Ashton and Certified Sexy Burlesque. UWO also welcomed back Vivian Storm as host, making this her 10th performance on campus.
The event focused on inclusivity and provided a platform for people to freely express themselves through dancing, elaborate outfits and music while showcasing their personal transformations.
Fifth-year UWO senior and Rainbow Alliance for H.O.P.E. executive board member Mars Stadler, was responsible for planning the bulk of the event. According to Stadler, this year's show featured one of their larger crowds.
"I think this show is so important for H.O.P.E. because we're able to bring campus together in a way that doesn't happen very often," Stadler said. "We fill the ballroom with people who support our community and are here to have a good time with us, and that is very special."
UWO sophomore Sarah Sandahl said this event was a first for her, and she was visibly excited while waiting in line.
"I've never been to a drag show, and I just thought it would be fun, with a lot of people being themselves and thriving," Sandahl said.
It was UWO senior Donnie Bantle's third year coming to the drag show, and with it being his last year, he said there was no way he could miss it. He also expressed how happy he was to see how popular the event was, and he liked how freely people are able to express themselves while there.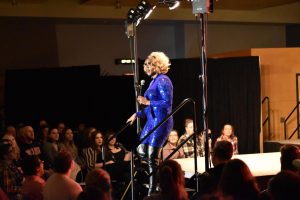 "I think it's really cool that community members are coming to the show, but I also think it's a really cool way for people to express themselves in different ways, and have everyone come support the community," Bantle said.
Bantle said attendance at some campus events can be lacking, and by hosting events such as the drag show, it helps break up the monotony of more typical informational sessions.
"It's really hard to get people to go to things sometimes," Bantle said. "But doing it in a more fun and entertaining way makes it easier to get people to go to events and support, instead of holding more informational events."
Sandahl said she likes being able to participate in the event because it allows her to show her support for a group she likes.
"I think it's important just to show support to the LGBTQ community; it's always a great thing," Sandahl said. "And just being surrounded by a great group of people and being able to just enjoy the show."
Stadler said this show was important in confirming that being a member of the LGBTQ community wouldn't isolate them, and that by breaking out of their comfort zone they learned they weren't an outcast.
"I think this show was my moment of confirmation that being queer wouldn't be something that would isolate me from the world," Stadler said. "If anything, it brought me closer to people,".