Q & A with UWO student, Harley-Davidson intern Tessa Otto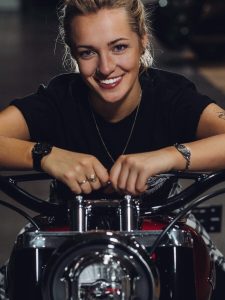 Q. What inspired you to apply for this internship?
A. I applied for the internship because it was an opportunity to ride all summer while gaining professional experience as a business analyst and marketing contractor for a company I have always admired.
Q. How did you feel when you found out you got it?
A. I received the phone call that I had got the job in my spring interim class, the Friday before Memorial Day weekend. They were looking for the type of personality that could drop everything and commit to an adventure. It was an American Idol moment, and I remember being so excited to tell my parents, friends, co-workers, and everyone else that helped me prepare for weeks and listened to me obsess over the position.
Q. What did you have to do to apply?
A. I created a video and poster, both with help from students here at UWO. Kathryn Kubasta, who now works in University Marketing and Communications, hooked me up with an eye-catching poster that I sent to the Corporate Office in a 20'x30'. And Dylan Rusniak, who runs his own "Ruz Productions," helped take my visualization of a video to life.
Q. How selective is this internship?
A. They had 7,500 applications from over 30 countries. Eight were selected worldwide. They were hired regionally.
Q. What is it like being a Harley-Davidson intern?
A. It is unlike any company I had been with because they are a company rich with culture and history. Walking through their corporate office for the first time gave all the interns the chills.
Q. What do you do as an intern?
A. As an intern I traveled the country documenting my journey on social media, doing interviews in print and media and served as a business analyst to understand how the company is engaging people my age.
Q. What is the most exciting thing you've gotten to do?
A. I rode to Sturgis with my father. He has ridden a Harley since 1995 and was very excited to be a part of my journey. He had the whole trip planned out so I would get the full experience.
Q. Do you get any cool perks being an intern?
A. I get to keep the bike! I chose a 2018 Twisted Cherry Street Glide Special. The best perk was the overall experience. What other 21-year-old can say that they have ridden a motorcycle across the country?
Q. What was it like participating in the Harley-Davidson 115 Anniversary Ride in Milwaukee?
A. Harley-Davidson hosted the four corners ride "home," meaning Milwaukee. I rode from Florida to Milwaukee with Harley-Davidson's CEO and President, Matt Levatich, for the celebration, then spent the weekend taking part in the activities.
Q. Do you have any advice for students looking to pursue an internship?
A. They may do it again next year, so I encourage students who are interested to apply.