Hard liquor ban cracks down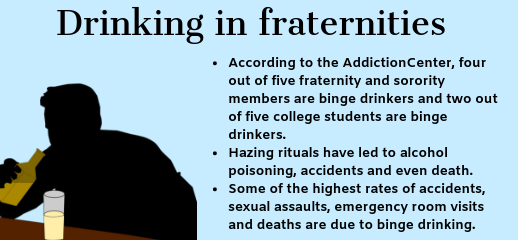 The North American Inter-fraternity Conference unanimously decided to ban all hard liquor "above 15 percent alcohol by volume in any chapter facility or at any chapter event" starting Sept. 1, 2019, with the exception of liquor sold by third-party vendors.
The NIC is a trade association that represents 66 international and national men's fraternities and works to shape fraternity life and culture.
All UW Oshkosh fraternities are under the umbrella of the NIC, according to the NIC website, and must therefore adhere to this new rule.
The logistics of the ban, however, do allow the presence of alcoholic beverages under the 15 percent ABV threshold, including beer, wine and malt beverages.
This ban comes on the heels of multiple alcohol-related hazing events with the most recent coming from the New York Times, reporting on the death of 19-year-old Penn State student, Timothy Piazza, who died in 2017 after falling down a flight of stairs.
Angela Zemke, the fraternity and sorority life advisor, said she is not oblivious to the horrific events that occurred in 2017 relating to fraternities. However, according to Zemke, the changes that have been made in regards to those incidents are being well received at UWO.
"The policies at UW Oshkosh were actually pretty close to the new standards already, so it won't be as hard to implement on our campus," Zemke said.
According to Heather Kirk, the chief communication officer for the NIC, hard liquor is the common denominator in all fatal fraternity-related incidents.
"Why hard alcohol? Because in our research, the pattern is clear — alcohol above 15 percent ABV is a key ingredient in virtually all of the serious injuries, hospital transports and deaths that we see," Kirk said.
While still a year away, Kirk said implementation will ultimately be up to the fraternities to enforce on the chapters themselves.
"There is no silver bullet as we work with college students, but we think this will have a positive impact on safety," Kirk said.
The NIC has taken other steps to address incidents like these, such as by adopting the Medical Good Samaritan Policy, which "prioritizes health and safety by removing barriers for people to seek help in emergencies," according to NIC officials.
UWO senior Kirby Lawlis said he is not convinced that the ban will be effective.
"A man can drink four beers and still feel the same as one who drank a single shot of hard liquor," Lawlis said. "If they are going to ban hard alcohol, they might as well go all the way and ban all alcoholic beverages."
UWO senior Lindsay Winkler said she is not convinced that a hard liquor ban is completely necessary.
"Maybe instead of banning hard liquor they could instead teach safe alcohol consumption practices and show students resources in regards to that," Winkler said.
Lawlis agreed there should not be a ban and said the main focus should be on cultivating a culture of respect where hazing is not tolerated. Lawlis also agrees that there should not be a ban.
"Alcohol should not be treated as the main scapegoat and provocateur here," Lawlis said.
Zemke said the potential difficulties in the implementation of this new policy could stem from Wisconsin culture.
"Living in the state of Wisconsin, we definitely have a culture of alcohol use which students are already coming to campus with," Zemke said. "Now they join a fraternity and we are placing additional restrictions on when, where and how you can drink. That is hard for some students to accept."
Zemke said safety has to be a top priority to ensure an effective and fulfilling fraternity experience.
"No one deserves to die because of their fraternal affiliation or their desire to be a part of the group, and it is the job of fraternity and sorority advisers, national offices and our current undergraduate students to make sure that doesn't happen through a set of agreed-upon standards," Zemke said.
Brandon Paulick, president of the Sigma Pi fraternity, declined to comment for this story.