UW Oshkosh hosts annual Run With the Cops 5K
Special Olympics Wisconsin, in partnership with the University Police and many law enforcement agencies all over the state, hosted its fifth annual Run With the Cops event on Oct. 4.
UP Capt. Christopher Tarmann said they offer a unique experience starting from the moment people arrive and register to when they run or walk the 5K on top of hanging out with law enforcement personnel who want to get to know their community members.
"People can race against the laser to see how fast they run," Tarmann said. "They can check out the inside of a prison bus, climb into a SWAT vehicle and try on gear, take photos in a mock cell, get into a battery-powered squad car and vote on their favorite squad car."
Special Olympics Wisconsin member and event coordinator Holly Schultz said that with the turnouts every year, they raise a lot of money for Special Olympics.
"We usually get close to a thousand registers," Schultz said. "All of the money that's donated from different businesses and registrations goes entirely back to Special Olympics."
Lightning McQueen with the Piston Cup and Mater from "Cars" were displayed in Kolf lot No. 13, and Culver's mascot Scoopie was walking around, interacting with families and people of all ages.
Runner Amanda Diedrick said that she runs with her family and has done Run With the Cops a couple times.
"I work for a police department, so we've been doing it as a team effort," Diedrick said.
Runner Audrey Stevens said the 5K brought many families together, including her own.
"My dad is one of the cops," Stevens said. "I think it's a good combination. I do these events with family and friends."
Run With the Cops supports Special Olympics in many different ways, Tarmann said, with proceeds going directly to Special Olympics Wisconsin.
"By raising $100 we help to provide one anti-bullying campaign at a local school or 20 medals that Special Olympics athletes earn for competing in their favorite sport," Tarmann said. "Raising $250 allows Special Olympics to provide a free health exam for an athlete, a free medical item such as prescription glasses or pays for an athlete to compete in their favorite sport for an entire season."
The run takes place all across campus, Schultz said, with squad cars being placed throughout the run course area to light the run and guide participants with the activated lights.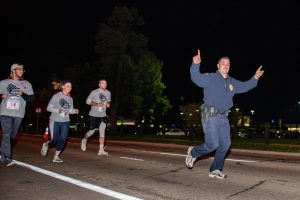 "It's a 5K, three miles," Schultz said. "It goes through campus and then kind of cuts back so it will start and finish [in lot No. 13]."
Stevens said she wishes there were more events similar to Run With the Cops so more people can make donations to great causes.
"I think it's a really good idea," Stevens said. "I think there should be more than there is."
The idea for Run With the Cops came six years ago when Special Olympics Wisconsin reached out to UP when they were volunteering at a different event, Tarmann said.
"We thought the concept of this event was a great idea for many reasons," Tarmann said. "First being that Special Olympics is an exceptional organization and second being that the way we decided to build the event would ultimately bring a large number of law enforcement personnel together with our community members, ultimately creating strong positive relationships."
There are many events the area Police Department takes part in, Tarmann said, Run With the Cops being an event that they have a very large part of bringing to life.
"We also do a Cops and Vets Cornhole Tournament in March and a Cops versus Vets Softball game in April," Tarmann said.