Grants to fund student research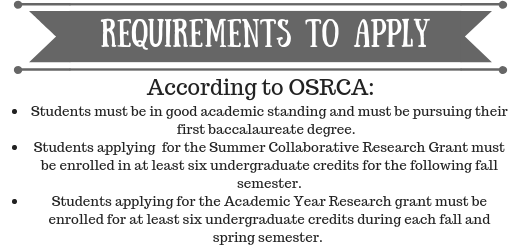 The Office of Student Research and Creative Activity has extended new grant opportunities for students looking to research certain topics at UW Oshkosh.
The grant gives students the funds to work with a faculty member to further research a topic of their choosing.
The Interim Director of the OSCRA Activity, Stephen Kercher, said this is a wonderful opportunity to boost students' resumes.
"It really is a partnership between the faculty member and the student," Kercher said. "The faculty member can help jumpstart someone's interest and help shepherd that idea into a proposal and then hopefully into real research."
Kercher said the opportunity is extremely valuable and students are encouraged to apply.
"The value added of doing something like research, of really stretching your wings and really pushing yourself to do a little bit more in this very unique research-oriented environment that we thrive in here is there for the taking," Kercher said.
The grant is beyond the fiscal amount of what is usually offered to students who would like to get involved in research opportunities.
Chemistry professor Jennifer Schuttlefield Christus said the opportunity gives students a freedom that normal labs don't offer.
"It's a wonderful opportunity for students to get their hands on research projects and learn in the lab not under structured guidance that we typically use in labs. Rather, this is open and exploratory," Shuttlefield Christus said. "They can refine their skills and find out what research is really like."
Senior Zac Chambers said his research opportunity forced him to narrow down his topic to focus on something very specific within the field of study.
"[This opportunity] helps you pay more attention to detail," Chambers said. "I think that's very important. When you're submitting the research to get the grant, you have to pay attention to all the details, you have to think of everything. You may have an idea and when you have the faculty there, you can narrow it all down and know exactly what you want to look for."
The main goal of the OSRCA is to give students a chance to further their education through research, according to its website.
"The Office of Student Research and Creative Activity is dedicated to helping students identify opportunities for research and creative activity, locate resources to help fund them and then, not least, share the results of their work with peers and members of the general public," according to the website.