Homecoming: 'Join in and come to events'
Forget about Buzz Lightyear shouting, "To infinity and beyond!" At UW Oshkosh, this week is all about homecoming and is titled "To Homecoming and Beyond 2018."
Saturday's events begin with an alumni/family day continental breakfast at the Reeve Union Titan Underground from 10-11 a.m.; historical non-walking tour of campus led by UWO archivist Joshua Ranger in Reeve, Room 221 from 10:30-11:30 a.m.; the Tent City tailgate pregame celebration with free food and entertainment on the second floor of Reeve from 11 a.m.-1 p.m.; the football game versus UW La Crosse at J. J. Keller Field at Titan Stadium at 1:30 p.m. with homecoming coronation at half time; and the fifth quarter celebration at the Fox River Brewing Company Tap Room following the football game.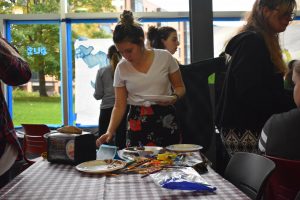 Shuttle buses will begin running from the Alumni Welcome and Conference Center to Reeve at 10:30 and to the Titan Stadium at noon.
This year's events also include window painting in Reeve, a spoons tournament, a UWO talent show with Daniel Franzese from "Mean Girls," house and hall decorating, flag football, the homecoming comedian Drew Lynch and yell like hell/lip sync.
According to Reeve Union Board member Jose Medina, spirit days are a new addition to homecoming this year.
"If they do, [participate in Spirit Days] they get placed in a raffle," Medina said. "The raffle is random so the winner gets free homecoming comedian tickets."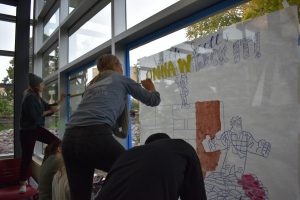 The spirit days were Pajama Day on Sunday, Disney Character day on Monday and pink day on Wednesday.
Home sporting events occurring yet this week include women's cross country on Friday and women's soccer against UW-River Falls on Saturday.
Special Events Chair Emilia Callejon encourages all students to come and attend homecoming events.
"If you're not in Greek life or in a hall you can still join in and come to events; it's not specifically just for them," Callejon said. "We want more people to come to [the events] so they can see what it's all about."
There will also be an All-Greek Reunion Event to reunite alumni who were in Greek life, and a two-day reunion event for alumni of the journalism program to celebrate its 50th anniversary.
Saturday's events include open houses of the journalism department, located on the third floor of Sage Hall, and the Advance-Titan office, located in Reeve Union Room 19, from 9-11 a.m.