Lands We Share showcases student research
The Lands We Share Exhibit in Polk Library showcases student research produced from oral history interviews conducted by Quest III students and student researchers.
Oral history interviews are long-form interviews used by historians to gain perspective on how people viewed and experienced life.
The exhibit showcases the Oneida Nation of Wisconsin, small-town farming in Allenville, urban farming in Milwaukee, a German dairy farm in Jefferson County and the first certified organic Hmong farm in Wisconsin.
The exhibit is stopping at UWO before traveling to the Oneida Nation, the Hoard History Museum, UW-Whitewater, UW-Milwaukee and UW Madison.
Co-curator and UWO history professor Stephen Kercher said the exhibit was designed to foster a dialogue between rural and urban Americans.
"This exhibit really is meant to kind of create a dialogue and discussion that will be relevant to both sides," Kercher said. "That will say there is common ground; we all share the land, maybe uncomfortably sometimes, but we all have ties to farming. Even people in cities have ties to farming."
Kercher said the Oneida project is fascinating because it involves a legal battle between the town of Hobart, Wisconsin and the Oneida Nation.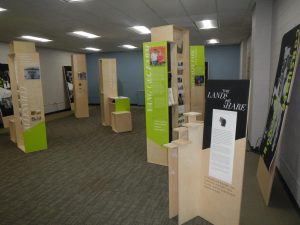 Kercher explained that the Dawes Act of 1887 reduced the amount of land Native Americans had, and once gambling was legalized, the Oneida Nation began buying their land back. Once the Oneida bought their land back it was put into a trust, meaning it was no longer taxable land.
"In places like Hobart it doesn't sit well with them because it's tax money they no longer get for their community," Kercher said. "The tension between Hobart and the Indian community is very pronounced, and that goes back to the question of the land and how important land issues are."
Student researcher Jennifer Depew said one of the things that shocked her was when the research team went to a Hobart town hall meeting in June.
"[Hobart] had a lawyer come in and talk about the legal tactics they were using to keep their taxable land base," Depew said.
Student researcher and Oneida Nation member Nicholas Metoxen said the group encountered racism at the town hall.
"[The Oneida] were nothing but respectful in trying to ask questions, and people were swearing at us and walking out when we were talking," Metoxen said.
Metoxen said that Hobart tries to oppose the Oneida through the local media as well as through legal means.
"[The Oneida] have an amazing apple orchard; we have an Apple Fest each year at the peak of picking season," Metoxen said. "A few years ago, the paper ran it as Apple Fest, a huge success in Hobart. They didn't mention the Oneida apple orchard, they just called it the Hobart apple orchard."
Metoxen said the Oneida also face police discrimination, which he has personally dealt with.
"I know I've personally gotten pulled over a lot when I had tribal [license] plates," Metoxen said. "I ditched tribal plates for Wisconsin plates and haven't been pulled over at home since."
Depew said students should go to the Land, Farming and Identity panel on the Oneida Nation on Nov. 1 at 4:30 p.m. in the Reeve Union Theatre to learn more about the Oneida Nation.
"Not only is it a compelling story of land theft and movement and cultural preservation and perseverance, but it's also a story that's ongoing," Depew said.
Kercher said each display features different problems associated with farming, and the Allenville display features the struggles of small family farms.
"These types of small farms with small herds that used to proliferate this area years ago are now becoming extinct," Kercher said.
Depew said Allenville was a tight-knit farming community before corporate farms bought out many of the small farms in the 1970s, '80s and '90s.
"Now when you drive through, there is the church, but the schools have been closed. Kids in Allenville bus to Winneconne. There isn't a good community center there. People don't know their neighbors anymore," Depew said.
UWO history professor Jeffrey Pickron said students should pay more attention to where their food comes from because buying locally grown food gives back to the community.
"It's those small producers, those small-business people, who make up a lot of our community," Pickron said. "The health of our community is essential; hopefully [the Lands We Share Exhibit] provides people with an opportunity to understand why that's valuable."