ITSO hosts the Wisconsin Hall of Fame Powwow
UW Oshkosh's Inter-Tribal Student Organization hosted the Wisconsin Hall of Fame Powwow last Saturday at Albee Hall.
Though it hasn't been hosted consistently, the powwow on UWO's campus began in the spring of 1986.
The powwow was a day-long event, with doors opening at noon and the ceremonial grand entry happening both at 1 and 7 p.m.
In addition to these powwow sessions, there was a presentation for the induction of Julie Hill from Oneida into the Wisconsin Powwow Hall of Fame, along with a giveaway and a feast. Vendors were also at the event, selling authentic Native American crafts.
The powwow itself included Native song, dance and drumming. The head dancers were Abaigeal Elizabeth Lyons and Joey Metoxen, with Medicine Bear as head drum along with co-drums, the Wind Eagle Singers and the Wildcat Circle Singers. Multiple dances and songs were performed.
Participation in the powwow was open to non-Natives as well; there were a few rounds of inter-tribal dance, where everyone, especially UWO students, was encouraged to come up and participate in the dancing.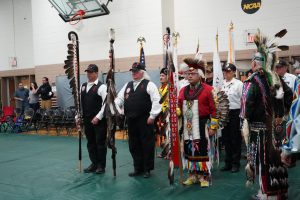 ITSO co-advisor Dr. Heidi Nicholls emphasized the importance of participation in the powwow.
"The moment you enter those doors, you're a part of the powwow," Nicholls said. "[We encourage] people to come out and do the inter-tribals, go and visit the vendors, enjoy the food."
Following the first powwow and the induction of Hill into the Wisconsin Powwow Hall of Fame, Native elders, Native veterans, the dancers and the drum groups participated in a give-away, where they were given an opportunity to take a gift as a sign of gratitude for their time and commitment to the powwow.
According to American Indian Student Services Coordinator Dennis Zack, the giveaway is a tradition that they have been trying to continue at the powwow.
"In American-Indian culture, it's really about giving more than it is receiving," Zack said.
The feast, which largely consisted of traditionally-prepared Native American foods was another way in which ITSO expressed its gratitude to guests and incorporated the idea of giving.
Additionally, ITSO President Nicholas Metoxen mentioned the importance of hosting the powwow on campus.
"I think showing that Native students have a presence on campus is a huge thing, and I think it's important particularly to have on campus because it gives that sense of pride for other students that are here as well," Metoxen said.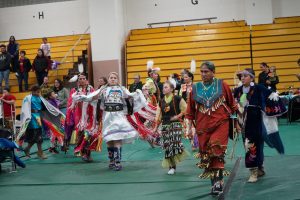 ITSO member Kim Boyer said it was great to see students being exposed to other cultures.
"A lot of times, the culture of the Native Americans is forgotten, and we don't really see an impact here on campus very much," Boyer said. "This event just really brings it all around, and it brings in vendors and people of the actual Native communities."
Zack said the powwow also provides a community aspect at UWO.
"[The powwow is] a community-building thing, and especially on campus here we want people to come that have never experienced it," Zack said. "We want them to feel welcome, we want them to understand a little bit about the powwow."
Zack said another goal is to get people to understand that American Indians are not a vanishing race.
"American Indians, yes, are the minorities of the minority, but they're still here," Zack said.