Oshkosh parade kicks off holiday season
Community members, UW Oshkosh students and kids of all ages braved temperatures hovering around 20 degrees to watch the annual tree lighting, followed by the holiday parade on Tuesday night in downtown Oshkosh.
The night kicked off with the annual tree lighting in Opera Square. Children jumped up and down in excitement, guessing what color the lights on the tree would be as the mayor of Oshkosh counted down from 10.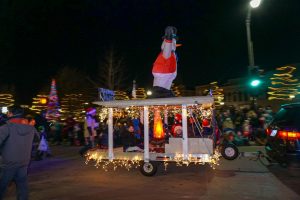 According to the downtown Business Improvement District manager, Cassie Daniels, 60 entries was to be the maximum amount of participants in the parade, but they allowed for 75 floats and organizations to participate in the parade. Some organizations included Beaming-UWO Nursing, the Oshkosh YMCA, Wisconsin Herd, EAA, title sponsor The Howard and Santa himself.
Associate Vice Chancellor and Dean of Students Art Munin said he was present at the event with his family.
"Events like this remind us that we are part of a greater community," Munin said. "We all can get stuck in our own little worlds and forget we are connected to something greater. After all, the city and our University need each other to thrive. This is just one of the many events that exemplifies why our relationship is so special."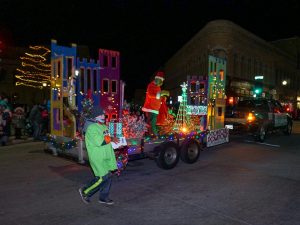 Daniels said the BID took over planning the annual parade two years ago from the Oshkosh Chamber. A team of volunteers and committee members helped organize the holiday event.
According to Daniels, planning for the parade starts as early as June.
"A lot of planning goes into it, a lot of logistical things — as most people know, there are a lot of one-way streets and drawbridges and the fire station and a lot of construction this year — so we work around a lot of elements. But in the end, I think the whole community enjoys it, so it's worth it," Daniels said.
Daniels said the most exciting part of the parade, apart from Santa, is the amount of bands present.
"We have six bands, two are on floats — the Oshkosh Area Community Band and Copper Box, and then we have Oshkosh North, Winneconne, Oshkosh West Lourdes marching bands, and they always bring great entertainment to the crowds," Daniels said.
UWO student Sara Sterk said this was her first time going to the event, and it did not disappoint.
"I've never been to the parade or tree lighting, but I've heard a lot about it," Sterk said. "I was surprised how big the parade was; some of the floats were pretty elaborate."