Titan Discount Club to expand and improve
The Oshkosh Student Association is planning to add more local businesses to the Titan Discount Club over winter break, just in time to score some holiday deals.
The Titan Discount Club is a group of local restaurants and other retail businesses that offer discounts to UWO. National and online discounts are available as well as downloadable coupons.
According to the OSA Titan Discount Club welcome page, "The Oshkosh Student Association is respectful of the fact that many of our students' budgets are getting tighter. In light of this, we have arranged for discounts to be available to all of our students, alumni, faculty, and staff — at no charge to you."
Several local businesses offer discounts: A Plus Automotive Tire and Brake, Banana Republic, Cousins Subs, IHOP, Perkins, Marcus Theatres, Tanzania Medi Spa and 100 online national student discounts including Apple, Coach and Eddie Bauer.
According to OSA Administrative Assistant Rae Ann Wetzel, Patrick Moriarty from Collegiate Services started the program before she came to UWO in 2011. Wetzel took over the club for free in May 2014.
"I volunteered to take over the club because it made sense," Wetzel said. "I found out [Moriarty] was charging OSA $1,500 and The Alumni Welcome Center $1,500 for his services. I also found out that many of the businesses on the discount list were made up or were not aware of the discounts."
OSA President Ronisha Howard said she was excited about some of the clothing stores on the list because she frequently shops there.
"Make sure wherever you go to ask; a lot of places won't tell you about the discount," Howard said. "I didn't know that we got discounts at a lot of the outlet stores, so that was a surprise for me when I looked at the list."
Wetzel said she tries to add to the list every year she updates it.
"I updated the list last winter," Wetzel said. "I plan on updating it again while students are gone for winter break. Every year, I aim to add at least five more businesses to the list. I also plan to better promote the discount club in a way so more students can learn about the program."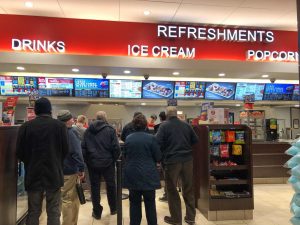 Howard said she wants to add some of the newer local businesses to the list.
"We are trying to figure out a better strategy to promote it and then add more businesses," Howard said. "Potbelly's, Jersey Mike's and other places have opened since the last time we updated the list, so we are trying to expand."
Howard said OSA is also debating creating an app for the club.
"We are also thinking about creating an app or a link for students so they have easier access to it," Howard said.
UWO student Jacqueline LaHaie said she didn't know about many of the businesses that offered discounts to students.
"I think a lot of students would take advantage of it if they knew about it; I just don't think it's advertised," LaHaie said.
LaHaie said she hopes to see more coffee shops added to the list.
"Definitely Starbucks; I feel like anything coffee-related, students would really take advantage of," LaHaie said.
LaHaie also said she thinks the program is a great idea.
"Fifteen, even 10 percent, anything you can do to save money is worth it in college; it means more money toward coffee or something," LaHaie said.
Wetzel said she is always looking for new business suggestions from students and staff.
"Students can find the list of participating businesses on the OSA website," Wetzel said. "I encourage students to email me with any suggestions for stores they would like to see added to the list."