Q&A with Crime Prevention Officer Kate Mann
"Q. What is Santa's Workshop?
A. This is my second year with the holiday season in this position as the public affairs crime prevention officer. Last holiday season I saw all the donations that were coming in and they were being stored in my office, and I saw quickly that I needed more space. On the second floor of the public safety building is the old jail and it's empty, so I used one of the cells to turn into Santa's Workshop so that we could organize all the various donations for the holiday season and for year-round purposes.
Q. So the main purpose of Santa's Workshop is to have a space for the things that the Oshkosh Police Department is going to be donating?
A. Yes. [Saturday, Dec. 4] is the kickoff for Lights of Christmas; it's our second year doing it. This year, the Oshkosh Police Department was tasked with putting together our own blessing bags, because we're one of the bigger departments involved in the Lights of Christmas. So we partnered with His Church and put together these bags. Then [Saturday] is the big kickoff, so we're [going] up to the Timber Rattlers Stadium and then we're getting over $50,000 just for Oshkosh in gift cards. Then we can start handing out to the community, so we're gonna be pairing those gift cards with some of the other donations we have.
Q. What kind of items is the Oshkosh PD donating?
A. Inside the blessing bags are various hygiene items and warm clothing [for both children and adults]. Then we also have [items from] PetSmart and then other various businesses and citizens have donated. I had a group of ladies from Lakefront Manor in town who applied for a bunch of different grants through Thrivent, and they made fleece blankets to give out, and then also hats and scarves, and toys as well. We [also] have books that were donated from Reach-A-Child organization. So we really get a mix of everything.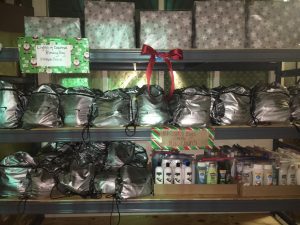 Q. Who made the donations?
A. There's over 25 people that donated and contributed to this, and we have some big contributors, too. 4Imprint donated all of the bags, PetSmart gave us hundreds of brand new stuffed animals. The list just goes on and on.
Q. Why do you and the Oshkosh Police Department think it's important to do this for the community?
A. We really think it's important that we have a good relationship with our community, and we feel that this makes a stronger community. It's a nice way for us to have a positive interaction with citizens, too, because you usually don't call the cops when you're having a good day. You usually call when something bad is going on. And unfortunately, we see a lot of the bad things that happen, and now we have the resources to give to people. So [if we see that a] family needs some food or need some presents for Christmas', we have the resources."
Q. How can people get involved?
A. Any new items anyone would like to donate [would be] fabulous. If they have some families that they want to nominate [for donations], they can contact me that way, too, and we can get the resources to them."