UWO welcomes cofounder of Beat for Peace to host drumming workshop
Cofounder of the Beat for Peace program Paul Corbrière led a workshop at UW Oshkosh on the techniques of Orff instrumentation and World Music Drumming. The Workshop took place Feb. 9 in the Arts and Communication Centers' Music Hall.
Corbrière, who is currently an elementary general music teacher for clear Clear Creek Amana Schools in Tiffin, Iowa, has been a featured clinician at state, national and international conferences. He uses Orff instrumentation, which uses xylophones and recorders for resiliency research for students.
"My No. 1 hope is that you're not alone in your room," Corbrière said. "There's a network of us out there that want you to be successful because we value what we're doing for students."
UWO Organizer and Associate Professor of Music Teacher Education, Kenneth Liske said Corbière does workshops all over the country and has particular approaches that are useful and unique.
"That's another reason we do these workshops," Liske said. "Paul has a national reputation and he's not someone that teachers in our area, Oshkosh and around, would normally run into and learn from."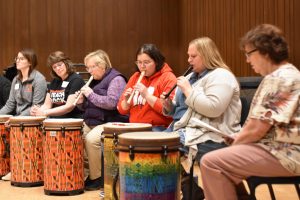 Liske said that these workshops give students and teachers a variety of material, not just what they learn in classes.
"They learn basics from me and other faculty members, and that's what they need," Liske said. "So, here's someone who takes the basics a step further, which is what the teachers need."
UWO music education major Billy Brandt said as a student seeing what goes on behind the curtain. The presentation was something very important and helpful to students.
"I think working with drum ensembles and doing that sort of stuff isn't something we cover in everyday classes," Brandt said. "Also getting to work with teachers and expert faculty members is a really cool thing."
The University partners with state organizations that provide facilities and share resources with teachers through workshops.
Corbière said musical education incorporates many useful aspects that go beyond the music itself.
"In here we're doing math, social studies, cultural experiences, physical working, gross motor skills, fine motor skills," Corbière said. "Our learning is at such a deeper level than what's going on in regular classrooms."
Corbière said teachers should find a way to get everyone involved and learning a particular concept they're working on.
"We see 100 percent of our students whether they can walk in, crawl in, are carried in, or wheel in," Corbière said. "Some kids are pulled out of classes for special things, but those kids are in our classroom."
Corbière said that being the third generation of music teachers in his family started him on his path to this career.
"It's a part of what we do," Corbière said. "If we're not teaching we're out playing."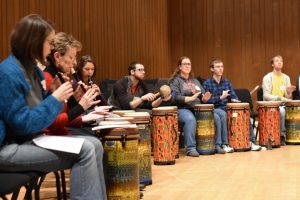 Corbière said he has been lucky enough to be in the right place, at the right time, meeting the right people who have guided him on his path.
"Will Schmid, who was one time the music department chair at UW-Milwaukee and creator of the World Music Drumming curriculum, he just passed away over summer, so we're a little crushed over that but we're keeping his thing going." Corbière said.
Liske said that this workshop gives music education students a chance to learn from experts and make connections.
"By bringing clinicians here, they can learn from experts and they can meet teachers in the area so they can connect with them and learn the same techniques," Liske said. "It's especially good for students."