UWO holds 19th Annual Honors Exhibition
UW Oshkosh art students had the opportunity to share their work with friends, family and community members during the 19th Annual Student Honor Exhibition.
The exhibition included a variety of work from sophomore through senior art majors chosen by instructors. The exhibit took place Feb. 7-14 at the Allen Priebe Art Gallery.
The gallery hosts nine to 12 exhibits each school year. This year the Student Honors Exhibition displayed 30 UWO students' artwork, ranging from ceramics, graphic design, drawing, painting, printmaking, photography, sculpture and digital art.
Gallery Director Leslie Walfish said this exhibit gives students a chance to share their work.
"This is a way for the campus community to see the great work that's happening in the art program here at UWO," Walfish said. "It's kind of a way of celebrating what's done in the department and honoring how talented our students are."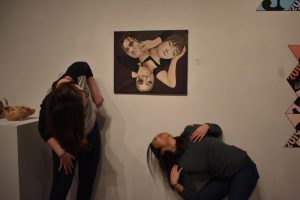 Walfish said faculty members nominate students based on their outstanding work in class.
"Every faculty member in the art department and studio and graphic design areas get to nominate up to five students they've had in their class," Walfish said. "The students had to have created work in an upper-level class, and if there's a particular fantastic work that they've done, that student's work gets nominated."
Walfish said this exhibition is especially valuable for students for a number of reasons.
"First, I think it's beneficial because students get to see their work in a professional setting," Walfish said. "Second, actual awards are granted by outside jurors."
Walfish said awards are given by Chancellor Andrew Leavitt, an outside juror and a local artist.
"The chancellor selects five awards every year, in which the students get money for that award, and then the artwork gets to be shown in the chancellor's office for a year," Walfish said. "The outside juror, an artist and gallery director Kendra Bulgrin gave four awards and two honorable mentions."
Walfish said the local artist, Christian Anderson, selects a couple of students each year from the body of work to put on another exhibition in May.
"He has a pop-up exhibit downtown with the student body of work," Walfish said. "So, while they might have, say, one photograph in the show here in the Allen Priebe Gallery, he'll invite them to show like 10 pieces in his gallery setting."
Anderson chose UWO junior Chloe Hirschberg to be represented at the exhibit in May.
"I was chosen because I finally took that step and made my art the way I wanted to without being scared of what people would say," Hirschberg said.
Hirschberg's piece was a screen printed graphic of a rhino with male genitals as its horn with the caption "Will Someone Pay Attention Now?"
"I chose to swap out the rhino's horn for a penis because the society we live in cannot care about something other than sex in one way or another," Hirschberg said.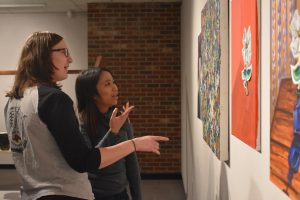 Hirschberg said the idea for this piece came from a lifelong interest and love for animals.
"I used to be afraid of being too graphic or making too big of a point and held back a lot of my ideas," Hirschberg said. "Thanks to the support of friends and family, I finally took that extra step and have started creating pieces that actually mean something near and dear to my heart."
UWO alumna Rebecca Grebe displayed some work from a photo series she did last semester.
"The idea of my work is that we are all connected, we all share something with each other and the more we share, the more connected we are," Grebe said. "We are all a reflection of each other."
Walfish said these exhibits give the public an understanding of the talent in the UWO art department.
"I want to encourage people to come to see our galleries," Walfish said. "It's a nice chance to see art, it's free and you're always going to see something different every time you come because we have a new show every month."