RUB hosts 70th Winter Carnival with 90s theme
UW Oshkosh gives students and staff a reason to celebrate the cold during the 70th annual Winter Carnival.
Winter Carnival is aimed to connect the campus community between the divisions of Greek Life, Residence Life and independent clubs or organizations. This year's theme is 90s TV shows.
Program Adviser for Reeve Union Board and Late Night Programs Dylan Bram said the purpose for Winter Carnival is to engage students in friendly competition, school spirit and overall togetherness.
"This offers them a way to have fun outside or inside and engage with each other person-to-person," Bram said. "Our hope is that it positively affects the campus community by showing unity, regardless of which division you belong to."
The Carnival includes seven events, which are Penny Wars, Ice Sculpting, Broomball, Trivia Night, Musical Chairs, Rope Pull and the Trailers & Awards Ceremony.
The Penny War is happening throughout the entire week from Sunday to Thursday, and Bram said it is not about the competition, but rather raising funds for a cause the winner chooses at the end.
"The group that has the most pennies in their jar at the end of the week will be the ones who get to decide where the entirety of the money goes," Bram said.
According to Bram, in previous years a wide range of donations has been sent to charitable foundations.
"In 2017 roughly $120.00 was raised and was donated to the Make-A-Wish Foundation, and in 2018 roughly $615.00 was raised and was donated to the Salvation Army," Bram said.
Ice Sculpting was the first event to kick off the week on Sunday. Students were each given two 300-pound blocks of ice to carve into their own masterpiece.
Winter Carnival event staff Elizabeth Weiland said she enjoys seeing the types of tools that groups bring to use, such as hair dryers, silverware and electric knives.
"I think it's a really cool way to get Greek Life and residence halls together," Weiland said.
Omega Delta Phi member Darius Beach participated in Ice Sculpting for the first time.
"I just want to get to know other communities," Beach said.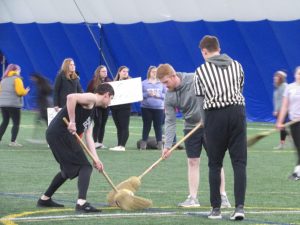 On Monday, Broomball took place at the Rec Plex.
According to the Reeve Union events page, Broomball is for those who enjoy hockey and brooms.
"Based on the entry slips we receive, we then prepare our brackets based off how many teams are planning on attending," Bram said.
Winter Carnival's Rope Pull and Musical Chairs were both Wednesday.
Trivia Night was Tuesday. Teams participated in ten rounds of questions for various categories; one included the theme of 90s TV shows.
Bram said that there are 10 awards in total for the three divisions.
"The organization, hall, fraternity or sorority with the most combined points overall will win first, second and third for a total of nine awards," Bram said. "There is also an award handed out for spirit — whomever is seen as the most energetic, positive and supportive team throughout the week will earn this award."
The Trailers & Awards Ceremony will be held today at 5 p.m. in the Reeve Union Theater room 307.